Your project
Set your own path of academic study in our project module.
Apply philosophy to the life you live
Each year you'll take a project module. These modules allow you to complete an individual project. The project allows you to apply the philosophy you learn to a topic of your choice. You'll investigate your area of interest and gather a body of knowledge. You'll then take the philosophy you've learned that year to ask important questions about your topic.
You'll open your mind to new ways of thinking and create your own learning path. You'll learn how to question, analyse, and balance many opposing points of view. These skills are essential to a wide range of careers.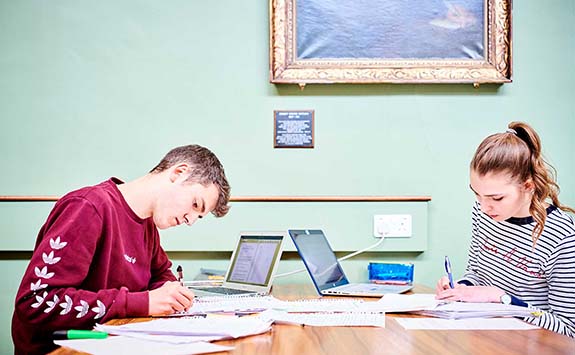 Project themes
Previous student projects have focused on topics such as:
Sport and Transgender Participation
Psychoanalysis and The Films of David Lynch
Veganism
The Philosophy of Designer Furniture
Money and Cryptocurrency
Death and Fame in Art
Racism in the Prison System
Skateboarding


I choose the 'object' of fine art and I've really enjoyed researching this topic and applying the philosophy I have learned. It's developed my understanding of fine art and allowed me to gain a deeper understanding...
How are the project modules taught?
A dedicated project tutor will work with you throughout your degree and guide you through the project research process. You'll be part of a small tutor group, meeting once a week.
Tasks will be phased throughout each year so you're not overwhelmed. You'll also work to produce:
group presentations
short films
oral presentations
reports
posters
a written dissertation
How are the project modules assessed?
Stage 1
In stage 1 you'll produce:
a 3000-word extended essay
a group presentation
a 500-word literature review
Stage 2 and 3
In stage 2 and 3 you'll submit:
a 7000-word dissertation
an individual presentation
a 500-word literature review
The project modules in stage 2 and 3 make up one-third of your degree.