Faculty of Medical Sciences
Find your place in the Faculty of Medical Sciences (FMS) and feel part of our pioneering postgraduate research community.
Working together to improve health everywhere
Welcome to our postgraduate research student community in the Faculty of Medical Sciences Graduate School. You're one of nearly 800 doctoral students in FMS, hailing from all corners of the world.
Between us, we have expertise in everything from basic science to clinical and applied health research. It's this diverse range of skills that allows us to carry out world-leading medical research.
Thank you for your role in helping to tackle some of the world's most pressing health issues.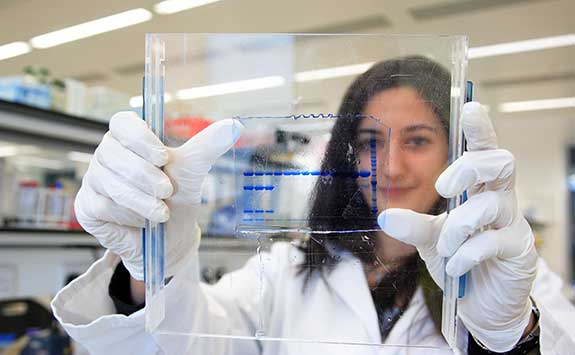 Expert support for your development
During your time with us, you can enjoy supervision from internationally recognised scientists. There are also more than 100 faculty researcher development courses for you to choose from. Design your own development journey, with workshops in practical lab skills, careers development, academic writing and more.
Find out more about our faculty researcher development programme.
Opportunities for personal growth
Once you've honed your public speaking skills, why not put them to the test? Each year FMS students organise and present at the North East Postgraduate Conference. It's your opportunity to publicise your research at one of the largest postgraduate conferences in the UK.
It's not just your academic successes that are important to us. Your wellbeing is also one of our top priorities. As well as working hard to create a nurturing environment, we provide workshops in mindfulness, exercise and better sleep.
There are also more than 100 faculty researcher development courses for you to choose from
Helping you reach for the stars
Each year, FMS doctoral students report exceptionally high levels of satisfaction.
The majority go on to achieve rewarding careers in a variety of fields.
It's our mission to ensure your experience will be just as exciting and fulfilling.