Teaching Opportunities
Gain valuable teaching experience and transferable skills.
Learn and grow by teaching
Teaching during your doctorate can be a hugely rewarding experience.
It's a chance to develop a range of skills – from leadership, active listening and communication to time management.
You get the satisfaction of helping others to reach their academic potential.
As long as you can successfully balance teaching alongside the demands of your research, we encourage you to go for it.
Read on to discover how to qualify as a teacher and gain valuable experience through teaching at Newcastle.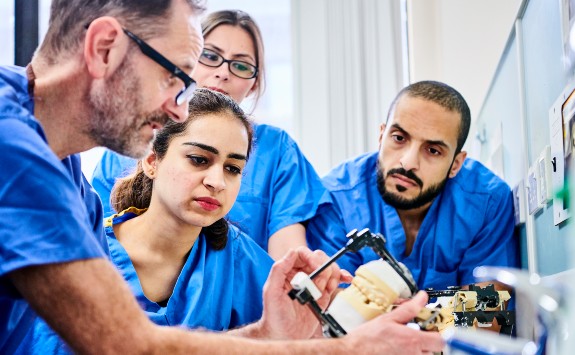 Find a teaching opportunity
Openings for teachers crop up within University schools and institutes.
If you're interested in taking on a teaching role, speak to your PhD supervisor to find out what's available.
To take on any teaching work as a postgraduate researcher, you must be registered for the academic year when the work takes place.
Teaching is governed by the recently updated Postgraduates who Teach Policy.
1. How to qualify for teaching work
Before you can start any formal, paid teaching, you have to complete a compulsory course. This is the Introduction to Learning and Teaching in Higher Education (ILTHE). It's made up of an online module and a one-day workshop.
Once you've secured a teaching role, login to Canvas to complete the online module. You'll be guided through step-by-step instructions. There's a course booklet for you to record your thoughts as you're working through.
The next step is to sign up to do the one-day workshop. Visit the online booking system and click through to ILTHE – Learning and Teaching Development Service.
At the end of your day's training, you'll have finished the course and be qualified for your first higher education teaching role.
2. Getting set up on the payroll system
No one can get paid by the university unless they're on the payroll system. So there are a couple of admin steps to take before you can start teaching.
First register as a casual worker through the S3P system via the 'Careers' tab.
After registering you'll receive an email inviting you for a 'right to work check' at King's Gate.
Until you've registered and had your right to work check carried out, you cannot start your teaching role.
As long as you can successfully balance teaching alongside the demands of your research, we encourage you to go for it.
Already teaching?
You can get recognition as an Associate Fellow (D1) of the Higher Education Academy by completing the 'Evidencing Learning and Teaching Skills' (ELTS) course. This programme specifically designed for postgraduate research students who have completed ILTHE.
To be eligible, you need to:
be in at least your second year of study
have 15-20 hours of teaching experience (which can include demonstrating, one-to-ones and marking)
have the approval of your PI/supervisor/Graduate School
have completed the ILTHE