Digital Capabilities
Assess and build the digital skills you need to engage critically, creatively and collaboratively in a digital world.
Being digitally capable is about being able to learn, work, and live in our increasingly digital society. There's a lot more to this than being able to use certain software. Technology is taking a much bigger role in both our personal and professional lives and having strong digital capabilities will help you now as a student and in the future. Being digitally capable is recognised in our Graduate Framework as a transferable skillset but it can be difficult to articulate how you demonstrate these skills without first reflecting on your experience.
As a student at Newcastle University you have access to a self-assessment tool, called the Jisc Discovery Tool that will enable you to reflect on your digital capabilities and consider areas where you may want to focus for future development.
How can the Jisc Discovery Tool help you? 
The Discovery Tool will help you find out more about your current digital capabilities. The tool enables you to take time to reflect on your skills and confidence level, to identify areas of strength and weakness and compare your capabilities over a period of time. The tool also signposts resources that will help you to develop your capabilities.
Self-assess your digital skills
Using the tool involves answering 15 pairs of questions (taking about 10 minutes). Based on your answers and your reflections the tool will create a graph mapping your confidence across the elements of the JISC Digital Capability Framework. The self-assessment and your reflections are completely private and the report generated is for your personal development.
The Framework has 15 attributes grouped into 6 dimensions:
Productivity and proficiency

Creation,

Problem-Solving and Innovation

Learning and Development

Information, Data, Media Literacy

Communication, Collaboration, and Participation

Identity and Wellbeing
Your report will point you at self-study resources that will help you increase your skills in areas that are important to you. The Tool collates resources from JISC and also links you up with our Newcastle University Digital Capabilities portal.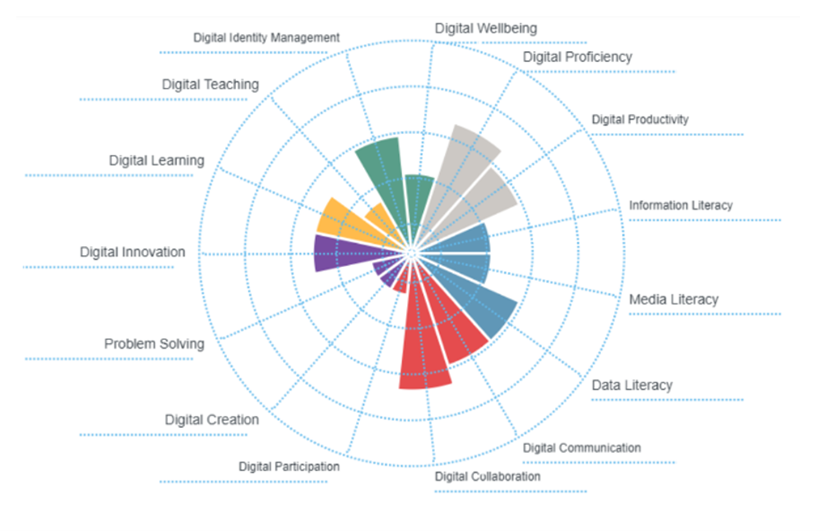 How do I access the Jisc Discovery Tool?
Access to the Discovery tool is by using your Newcastle University log in.
Select Newcastle University from the drop-down list of institutions and click continue.
You will then be taken to the Newcastle University Single Sign on page. Enter you your university username and password.
The first time you log in, you will be asked to create an account. You will be asked to provide:

Your First Name
Your Last Name
Your Level of Course
Your Subject
Once you have created an account, you will be taken to the main Discovery Tool dashboard. From here you can access the digital capability question sets and any completed reports.
Can I complete the self-assessment more than once?
Yes. You can answer a question set more than once and at any time, and we would encourage all students to revisit the Discovery Tool at least once a year.
Repeating the self-assessment using the same question set allows you to see how your digital capabilities have developed or changed over time by comparing your results. This is especially useful if you have been working to build your capabilities in a particular area of the framework.
Once you have completed the same question set more than once, you can compare the results from your reports. This is a useful way to map your progress over time.
How can I compare the results of two self assessment reports?
You may find it helpful to undertake a new self-assessment after you have completed some work on developing your digital skills. Once you have completed the same question set more than once, you can compare the results from your reports.
To compare results:
Go to your question sets and click on the set you would like to compare.
On the next page, you will see the blue View report button at the bottom of the tab.
Click View report and your most recent report will open.
Below the radial graph you will find the filters to compare your previous reports.
Select the two reports you would like to compare from the drop down lists and click Apply.
Can anyone else see my digital capabilities report?
No. You are the only person who can see your report and your individual results. It is your choice whether you choose to share this with others. If you choose to share your report with others, such as your personal tutor or supervisor, it may help to download your report as a PDF file.
The University does have access to an institutional data dashboard which collates anonymised data from all completed question sets. This data will be used to inform the future development of resources.
How do I download my digital badge for completing the self-assessment?
Once you have completed the self-assessment and have received your personal report, you will be able to download a digital badge to show that you've taken the time to reflect on your digital capabilities. You can add this to your digital portfolio such as your LinkedIn profile or CV.
To claim your digital badge:
From the dashboard, click on your question set and open your report
Either click on Claim your badge from the navigation menu on the left-hand side of the screen or scroll to the bottom of your report and select Claim your badge.