Corporate Partnerships
We're working in partnership with Newcastle solicitors and law firms in the region.
Providing helpful advice for our students
We arrange a series of events with representatives from law firms.
We make sure you are fully informed on how to market yourself to potential employers.
From induction week onwards we bring the law firms to you.
They give you up-to-date advice on the legal professions and answer your questions.
Solicitors from local firms judge first year students in our Client Interviewing Competition.
They help our students to hone their legal skills from the outset of their studies.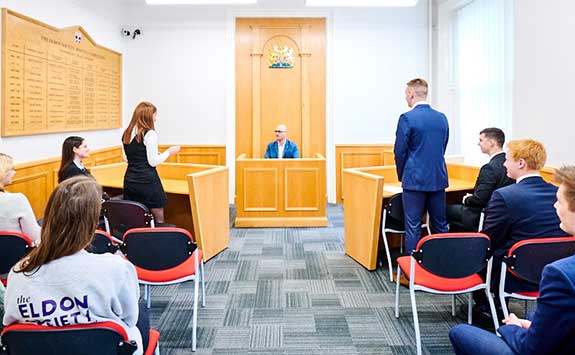 Sponsorship
Prominent regional and national law firms and organisations assist us with sponsorship. There are prizes for outstanding performance, from solicitors and legal organisations, including:
DWF solicitors help our students with client negotiating exercises.
There are prizes from bequests to the Law School and prizes from law publishers. Law firms sponsor other activities.
Scholarships
Ward Hadaway and SSD also sponsor student scholarships. These are competitive and awarded to students entering stage 2 of the LLB.
The successful Ward Hadaway scholars and SSD scholars are also awarded work placements.
Cartmell Shepherd, solicitors, kindly sponsor our senior mooting competition. They also provided help to create our new state-of-the-art Mooting Room.
Last year, Lord Hope of Craghead, Deputy President of the Supreme Court, honoured us. He acted as judge for the Cartmell Shepherd Senior Mooting Competition.
Co-operation with the North-East Circuit Barristers
Local Barristers help out at Newcastle Law School. They drop by to judge rounds of the inter-mural Cartmell-Shepherd Senior Mooting Competition. They adjudicate upon the prestigious inter-varsity mooting competitions.
Links to Newcastle Combined Courts
We have excellent links with the Newcastle Combined Court Centre. It's the hub of legal activity in North East England. Every year, we bring our students on court visits. They familiarise themselves with the workings of the criminal and civil justice systems.
Judges sitting at the Combined Courts regularly visit the Law School. They share their insights into the legal profession with our students. They judge student mooting competitions.
Environmental Agency internships
Each year the School and the Environment Agency work together. We give one postgraduate chance to work with their Environmental Crime Team. The student works as an Environmental Crime Technical Assistant.