International Students
We have more than 30 nationalities represented in Newcastle Law School. Join an international community of staff and students.
Newcastle Law School welcomes students from all over the world. We give our international students the best learning experience possible.
One-to-one student mentoring
All international students will receive support from a trained student mentor. Giving you a friendly and informal point of contact to help you settle into life in Newcastle.
The mentoring scheme started as a pilot project in September 2008. The feedback from mentors and mentees has been very positive.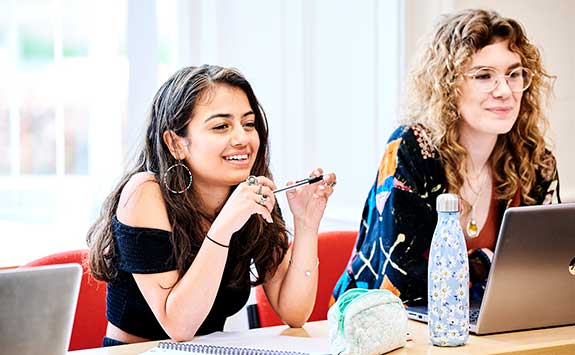 International student support
International students are a vibrant and integral part of our community. They enrich the Law School and University with their presence, culture and experiences. We recognise how overwhelming it can be for international students to study:
in a foreign country
often, in a foreign language
far away from their loved ones
The Law School has introduced the role of International support. This is an academic supporting international students in adjusting to University life here. The International Tutor has weekly office hours dedicated to international students.
They can discuss any academic concerns they may have. They can seek advice on issues about their academic development. The International Tutor organises, with international student representatives, activities. These range from social gatherings to information/support sessions.
Currently, the International support are Bronwen Jones and Josh Jowitt.
Canadian students
We welcome applications from Canadian candidates for the LLB degree at Newcastle University.
Our comprehensive academic programme is open to both high school and post-graduate applicants. We're expanding our curriculum as an attractive alternative to Canadian qualifying law degrees. Our carefully-structured programme equips students with skills and knowledge. It helps to secure articling positions in Canada and enter legal professions worldwide.
Entry requirements
Students should achieve 85% overall minimum 6 grade 12 subjects in their secondary school diploma. We'll consider applicants who already hold undergraduate qualifications on an individual basis.
How to apply
All applications to Newcastle University are via UCAS. Beside that application process, we interview prospective students by phone or skype.
To find out more, contact The International Office. Alternatively, talk to our:
You can also get in touch with one of our Canadian recruitment agents:
Canadian Society
Our dedicated, student-led Canadian Society hosts a range of professional and social events. They help students feel at home and develop a specialised knowledge of Canadian law.
Funding
Every Canadian applicant's considered for one of three competitive and merit-based international scholarships. Each scholarship is worth £9,000. Payment of the award splits over the course of the three-year LLB degree programme on a pro-rata basis. Newcastle University is also a certified institution for Canadian Student Loans access. For more information and advice, please contact the Student Financial Support Team.
Hong Kong students
We offer a stimulating programme to Hong Kong students who intend to qualify with an LLB degree.
We strive to foster critical thinking and flexible problem solving skills.
Our degree opens doors to diverse legal careers. It also provides a solid foundation for postgraduate studies. It is highly valued by employers in other professions.
We have been a favourite destination for Hong Kong students for many years. We continue to offer a higher education experience recognised internationally for excellence.
Meet us in Hong Kong
Our members of staff regularly travel to Hong Kong to meet with prospective students. We attend:
the ESF higher education fair
individual visits to Hong Kong Schools
You can meet us, and representatives of our International Office, at agents events.
Entry requirements
IB: a minimum of 34 points, with three subjects at Higher Lever grade 6 or above. HKDSE: Pass (level 3) in any 6 subjects with minimum of 555 in 3 Senior Secondary Subjects excluding Chinese language and Maths plus IELTS 7.0
How to apply
All applications to Newcastle University are via UCAS. To find out more, please contact The International Office. Alternatively, enquire with our:
Funding
We consider every Hong Kong applicant for one of three merit-based international scholarships.
Each scholarship is worth £9,000. Payment of the award splits over the course of the 3-year LLB degree programme on a pro-rata basis.
PCLL
LLB graduates wishing to practice law in Hong Kong need a PCLL qualification. By appropriately selecting modules here, students can be exempt in nine PCLL subjects. Our graduates have to pass the Hong Kong Conversion Examination for PCLL admission. This is in three top-up subjects as well as commercial law, criminal and civil procedure.