Get Ready for Your Law Degree
To help you get ready to start your law degree with us, we've pulled together a must-read/watch list. It will get you thinking more about your law degree.
Books and films that give you a feel for the law
The list focuses on books, podcasts, blogs and films that we hope will show you what law is all about. They should give you a feel for what law involves.
Reading
Tom Bingham, The Rule of Law (2011)
TH Smith, Glanville Williams: Learning the Law (2016)
Allan Hutchinson, Is Eating People Wrong? Great Legal cases and how they shaped the world by Allan Hutchinson (2011)
Helena Kennedy, Eve was Framed (1993)
Catherine Barnard, Janet O'Sullivan & Graham Virgo, What about Law: Studying Law at University (2011)
Gary Slapper, How the Law Works (2016)
Clare Dyer and Marcel Berlins, The Law Machine (2000)
Imogen Moore and Craig Newbury Jones, The Successful Law Student: An Insider's guide to studying law (2018)
Literature
Emily Brontë, Wuthering Heights
Charlotte Brontë, Shirley
Charlotte Brontë, Jane Eyre
Nathaniel Hawthorne, The Scarlet Letter
Alexandre Dumas, The Count of Monte Cristo
Charles Dickens, A Tale of Two Cities
Victor Hugo, Les Misérables
Fyodor Dostoyevsky, Crime and Punishment
Oscar Wilde, The Ballad of Reading Gaol
Franz Kafka, The Trial
Jane Austen, Persuasion
Law in Literature collection
We also have a Law in Literature collection on our Library website which is a collection of:
novels
short stories
graphic novels
poetry
films
plays
The collection was built in collaboration with Law School staff and students. It helps encourage reading for pleasure, broaden literary awareness, and highlight interdisciplinary study. You will find a diverse range of voices and stories within this collection. There's a range of themes from human rights to A.I., crime to legal ethics, and more.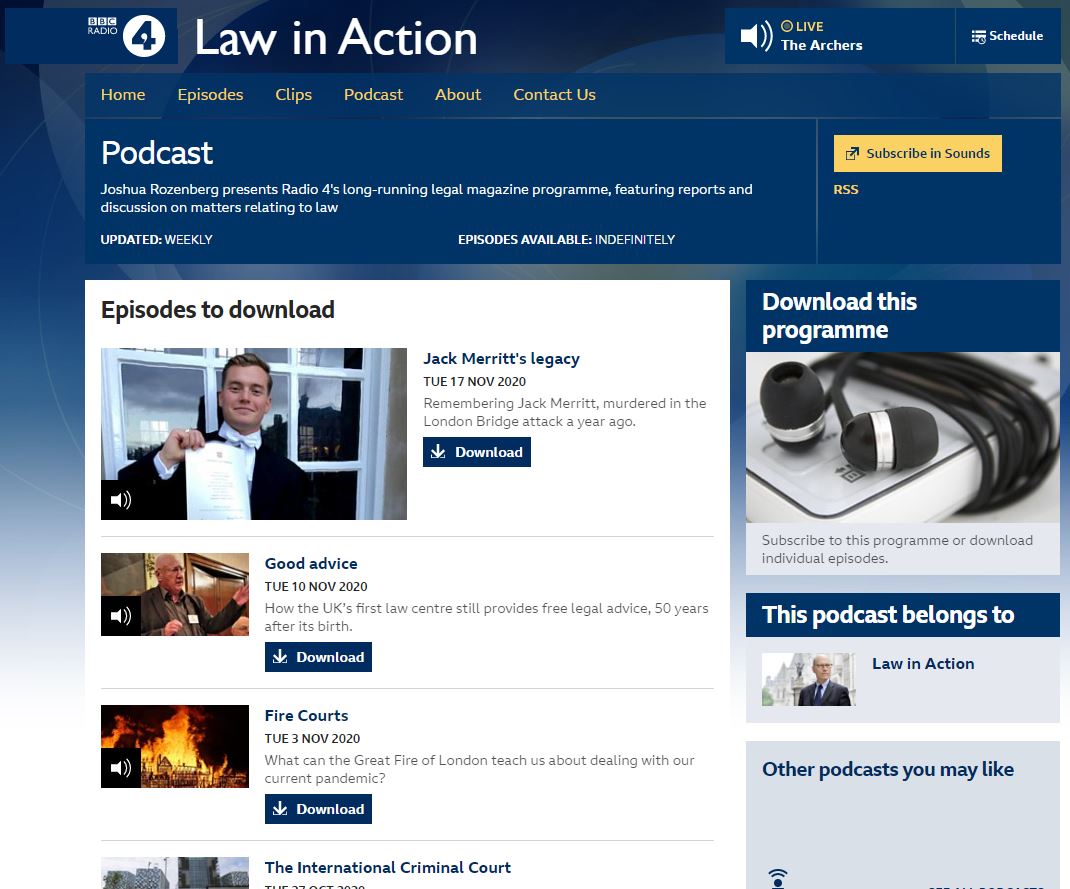 Introductory - easy viewing
Legally Blonde (2001) - The 2001 hit comedy, "Legally Blonde," has gained a large following. It portrays the struggle of law school through the eyes of the lovable Elle Woods. Woods decides to go to law school to prove her smarts to her ex-boyfriend's traditional family. She has to work harder than she's ever worked to prove herself to her ex and her professors. It culminates in a dramatic courtroom scene.
Bee Movie (2007) – where a bee decides to sue humans for eating honey.
Miracle on 34th Street (1947) - The holiday classic has one of the most improbable courtroom scenes. But then, how would you go about proving that your client is the real Santa Claus?
Law, rule of law, legal theory
Judgment at Nuremberg (1961) - Stanley Kramer directs this portrayal of Nazi war crimes trials set in 1948. It focuses, in particular, on charges brought against four German judges. They're accused of allowing their courts to become accomplices to Nazi atrocities.
Family law
Kramer vs Kramer (1979) - Starring Dustin Hoffman and Meryl Streep. The film focuses on the wider implications of divorce. It places particular emphasis on just how stressful it can be for a child who is caught up in the middle. It shows how even the bitterest of breakups can ultimately be resolved in a way which puts the child first. This is a must watch for anyone interested in family law.
A Separation (2011) - Simin wants to leave Iran with Nader, her husband of 14 years, and daughter, Termeh. Nader, however, is concerned for his elderly father, who suffers from Alzheimer's disease. Simin files for divorce. But the family court judges the couple's problems insufficient to warrant divorce. It rejects Simin's application.
Discrimination
Philadelphia (1993) - Tom Hanks won an Oscar as an Ivy-educated gay attorney. Hanks' character claims his law firm fired him after discovering he contracted AIDS. Denzel Washington is a personal injury lawyer who takes the case when everyone else turns it down. Washington's character also comes to terms with his own homophobia.
Made in Dagenham (2010) - A dramatization of the 1968 strike at the Ford Dagenham car plant. Female workers walked out in protests against sexual discrimination.
Pride (2014) - UK gay activists work to help miners during their lengthy strike in the summer of 1984.
On the Basis of Sex (2018) - A biographical law film about Supreme Court Justice Ruth Bader Ginsburg. She's an icon of the American legal system. She became a lawyer at a time when women were severely discriminated against on the basis of gender. More than 100 laws discriminated against women. She fought tirelessly for women's rights. She positioned herself in the upper echelons of the legal sphere.
Free speech
The People vs Larry Flynt (1996) – The story of a controversial pornography publisher. He became a defender of free speech.
Civil law
The Rainmaker (1997) - A struggling lawyer takes on a corrupt insurance company. The firm refuses to pay out a legitimate claim for a dying young man.
A Civil Action (1998) - On its surface, this is a David vs. Goliath. Small-firm Boston plaintiffs lawyer up against two conglomerates. The conglomerates run a tannery that might be responsible for leukemia-related deaths. A thriller about the consequences of demanding moral outcomes from a legal action suited to risk-and-reward.
Erin Brockovich (2000) - Based on a true story. A great 'cause lawyering' film. A clerk in a law office pursues an action against a huge corporation, suspected of land pollution. The area of law is quite complex, but it is worth a watch for anyone interested in environmental or property law.
Law and religion
Inherit the Wind (1960) - Based on the colloquially named Scopes Monkey Trial of 1925. It charts Tennessee's decision to ban teaching of evolution in favour of creationism. Much of the film is taken directly from the trial transcripts. The arguments from the counsel on behalf of Tennessee show just how powerful religion can be. The film shows the age-old battle between science and religion. It shows how in extreme cases, the courts have had to mediate this.
Crime, criminal procedure and evidence
The People v's O.J. Simpson (2016) - This dramatisation traces the twists and turns of O.J. Simpson's murder trial.
Stephen: The Murder that Changed the Nation (2018) (BBC) – Documentary series about the murder of Stephen Lawrence.
A Confession (2019) (ITV) - Based on the true story of DS Stephen Fulcher and his hunt for missing 22-year-old Sian O'Callaghan. It look at how it led to the arrest of Christopher Halliwell. This was the beginning of the capture of a prolific serial killer and the detective's own downfall.
Making a Murderer Season 1 (2015)- The show tells the story of Steven Avery. He served 18 years in prison for the wrongful conviction of sexual assault and attempted murder of Penny Beerntsen. He was later charged in 2005, and convicted in 2007, for the murder of Teresa Halbach. The connected story is that of Brendan Dassey, accused and convicted as an accessory in the murder.
12 Angry Men (1957) – Classic legal drama starring Henry Fonda. He plays a juror attempting to prevent a miscarriage of justice. He forces colleagues to reconsider the evidence. The film is a good reminder that jurors are human. They come into the courtroom with their own experiences that will impact the way they view the case.
To Kill a Mockingbird (1962) - A three-time-Oscar-winner based on the novel by Harper Lee. It stars Gregory Peck as the lead character Atticus Finch. Based in 1930s Alabama, in the great depression, it deals with racism and segregation. Finch is appointed as defence attorney for Tom Robinson, a black man accused of raping a white woman. This is a great law film to watch for those interested in human rights and criminal law.
10 Rillington Place (1971) - The film dramatises the case of British serial killer John Christie. He committed many of his crimes in the titular London terraced house. It looks at the miscarriage of justice involving his neighbour Timothy Evans.
Anatomy of a Murder (1959) - Otto Preminger directs this realistic study. An Army lieutenant is accused of murdering a bartender who allegedly raped his coquettish wife. An A-list cast is headed by James Stewart as the defense attorney. George C. Scott, Ben Gazzara and Lee Remick also star.
The Accused (1988) - A young woman suffers a brutal gang rape in a bar. A prosecutor assists in bringing the perpetrators to justice. This includes the ones who encouraged and cheered on the attack.
Reversal of Fortune (1990) - Jeremy Irons won an Oscar for his portrayal of a crassly dependent husband of a socialite. She lapsed into a coma when she was allegedly injected with an overdose of insulin. His character, von Bulow, was tried and convicted of attempted murder in 1982, largely on privately gathered evidence. He hires Alan Dershowitz, the now ubiq­uitous Harvard law professor, whose account of the case is the basis for this movie. The law line of the movie oc­­curs when von Bulow is attempting to explain to Dershowitz (Ron Silver) what actually happened: "No," shrugs Dershowitz. "Never let defendants explain; puts most of them in an awkward position." "How do you mean?" asks von Bulow. "Lying," says Dershowitz.
A Few Good Men (1992) - This law film charts the intense court marshalling of two marines. They're accused of killing a fellow comrade in Guantanamo Bay. Initially unenthusiastic and disengaged, their lawyer begins to realise there is a valid defence by way of chain of command. He then works extremely hard in his attempt to exonerate his two clients of all their crimes.
My Cousin Vinny (1992) - Vincent "Vinny" Gambini (Joe Pesci) is a brash Brooklyn lawyer. He only recently managed to pass the bar exam on his sixth try. He's representing his cousin and a friend—two California-bound college students. They're arrested for capital murder at a convenience store in rural Alabama. The movie packs in cinema's briefest opening argument ("Everything that guy said is bullshit."). It features the best-ever introduction to the rules of criminal procedure. It looks at a case that hinges on properly introduced expert tes­timony about tire marks left by a 1964 Skylark and the optimal boiling time of grits.
In the Name of the Father (1993) - Pete Postlethwaite and Daniel Day-Lewis play Giuseppe and Gerry Conlon. They're a real-life father and son falsely accused in two separate IRA bombing sprees. The film chronicles their struggle to convince British courts of their innocence.
Vera Drake (2004) - Abortionist Vera Drake finds her practices clash with the mores of 1950s Britain.
Fruitvale Station (2013) - This film is based on the events leading to the death of Oscar Grant. He was killed in 2009 by BART police officer Johannes Mehserle. It happened at the Fruitvale station of the Bay Area Rapid Transit (BART) system in Oakland.