Undergraduate Law
Newcastle Law School's Law LLB gives you the foundations of legal knowledge. You'll develop key skills for your future career.
Our degree
The Newcastle Law LLB will give you the opportunity to:
study a degree informed by the latest research
understand the nature of law and theoretical and multi-disciplinary influences on its development
develop analytical, problem-solving and critical skills
develop intellectual and key transferable skills for future learning and boost your employability
We want you to make the most of your time at Newcastle. And we will encourage you to challenge yourself throughout your studies.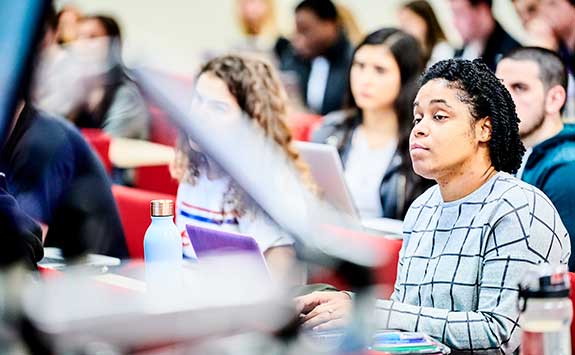 How you'll learn law
Lectures will give you a framework of the subject. Seminars – small classes of up to 12 students – help you work through complex legal problems. We organise further sessions at courts and prison facilities. Our students enjoy one-to-one coursework and exam feedback sessions. They improve their skills with every piece of work.
An independent audit of our learning provision praised the excellence of our teaching. Our curriculum, feedback, and careers support are held as examples of good practice. We're committed to ensuring our students get the best learning experience possible.
Research that shapes our teaching
Law at Newcastle has an excellent reputation. Our staff are world-leading at the forefront of research, which we use to inform teaching.
We offer our students leading research-informed teaching and learning. This contributes to consistently excellent teaching quality and our National Student Survey results.
Our staff are experts across a wide range of legal subjects, including:
criminal law
company law
law of evidence
environmental law