Undergraduate Archaeology
Our degrees allow you to investigate all forms of evidence from periods of human history, from prehistory to the modern era.
Make the world your classroom
Studying archaeology involves a wide variety of teaching and learning activities. Gain a series of practical skills highly valued for employment in the heritage sector. Work with both original artefacts and documents to interpret the past. Make discoveries at our Hadrian's Wall field school or join one of our many other research projects.
You'll develop valuable data-analysis skills transferable to many career pathways. You'll learn how to interpret information and communicate findings to an interested public.
We are fortunate to have The Great North Museum: Hancock on campusand incorporate its extensive collections into our teaching.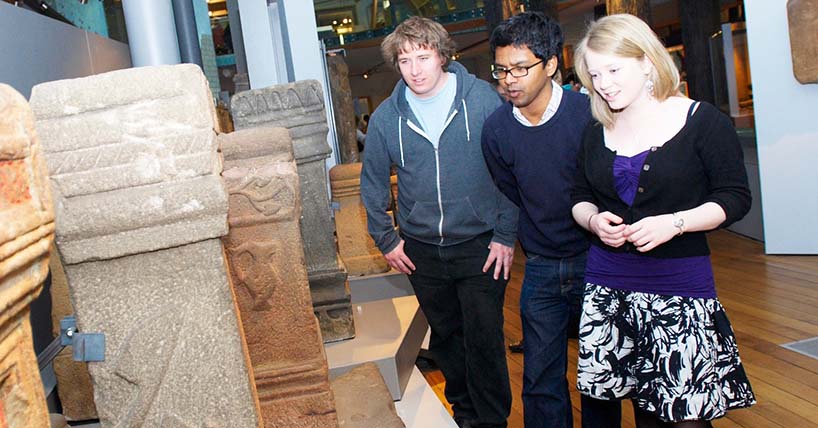 Sorry, you need JavaScript to view this video
Wealth of archaeological sites nearby
Newcastle and its surrounding region has a wealth of archaeological sites.
These include the UNESCO Heritage sites of Hadrian's Wall and associated Roman settlements.
There are many medieval castles along the Northumberland Coast.
Newcastle is one of the few universities to teach Late Antique and Byzantine archaeology as well as Greek and Roman archaeology.
We also offer archaeology combined with history to study the recent past.
Our degree programmes
We offer a range of undergraduate degree programmes. Our degrees can be:
single honours (a degree that concentrates on one main subject)
joint honours (study two complementary subjects as part of a single degree programme)
Combined Honours (flexible degree allows you to study two or three subjects together)
Funding
You can find information about a wide range of scholarships schemes, bursaries and financial support offered by Newcastle University on the main Scholarship & Bursaries page.
Vice Chancellors EU Scholarships
Scholarships worth between 40 and 70% of the international tuition fee for undergraduate students. Students do not need to apply for these, they will be awarded automatically and students will be notified of the scholarship by email, once they receive their conditional offer.
Vice Chancellors Excellence Scholarships for EU students
Merit awards offering a £6,000 per year reduction in the tuition fee to 15 undergraduate students, on top of the percentage discount mentioned above with the automatic scheme. Deadline to apply is the 22nd May 2022.