Quality and Reputation
Our reputation for providing students with quality learning experiences and research opportunities has global recognition.
Newcastle University UK is a modern university with a rich tradition of scholarship. It has a proud record of service and a global alumni network. In addition, it is:
a Russell Group University that ranks in the top 20 in the UK for research power and student experience.
the first UK university to establish a fully owned branch campus for medicine and biomedicine in Malaysia
Quality
The Quality Assurance of Basic Medical Education (QABME) framework helps to safeguard standards at Newcastle University Medicine Malaysia (NUMed Malaysia). Its application is important in undergraduate and postgraduate medical education. The framework ensures training is monitored, maintained, developed and approved. It also ensures that the right outcomes in new doctors are being met. The QABME process involves evidence-based visits and an annual report from each school.

NUMed Malaysia's MBBS also meets the UK's Quality Assurance Agency (QAA) Code of Practice. It is also in alignment with QAA subject benchmarks. The last QAA review in 2016 commended our management of academic standards and quality of learning. The QAA awarded us a 'judgement of confidence' – the highest rating available.

Quality governance of the programme is also overseen by the Malaysian Medical Council (MMC) and the Malaysian Qualifications Agency.

NUMed Malaysia is fully recognised by both the General Medical Council and the MMC. We adopt the published guidance on UK medical education delivered outside the UK available on the General Medical Council website.
International assessment recognition
Newcastle University UK has become one of 12 universities in the world to achieve five plus QS Stars from QS Quacquarelli Symonds – the first international assessment of its kind.

More than 150 universities in over 35 countries have now signed up to the QS Stars rating system. The assessment system rates universities against pre-established international standards.

We are proud to have been awarded five stars in the following areas:
Research
Teaching
Internalisation
Specialist Criteria
Employability
Facilities
Innovation
Inclusiveness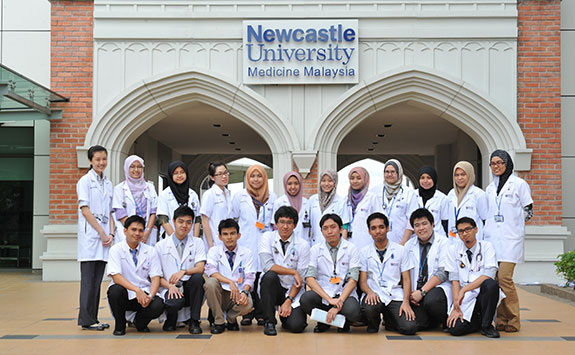 Our global ranking
Currently, Newcastle University UK has a global ranking of:
The table shows our position in global rankings over the past decade. They typically measure various metrics relating to students, staff, research and teaching.
| | 2011 | 2012 | 2013 | 2014 | 2015 | 2016 | 2017 | 2018 | 2019 | 2020 | 2021 | 2022 | 2023 |
| --- | --- | --- | --- | --- | --- | --- | --- | --- | --- | --- | --- | --- | --- |
| QS World Ranking | 127 | 126 | 129 | 127 | 162 | 168 | 161 | 141 | 146 | 152 | 134 | 122 | 110 |
| Leiden Ranking (PP top 10%) | 167 | 172 | 133 | 121 | 104 | 114 | 105 | 132 | 91 | 78 | 66 | 78 | |
| Times Higher Education | 146 | 180 | 198 | 202 | 196 | 190 | 175 | 171 | 201-205 | 178 | 146 | 139 | |
| University Ranking by Academic Performance | 149 | 155 | 161 | 159 | 198 | 203 | 200 | 200 | 185 | 182 | 176 | | |
| Academic Ranking of World Universities | 201-300 | 201-300 | 201-300 | 201-300 | 201-300 | 301-400 | 201-300 | 201-300 | 201-300 | 201-300 | 201-300 | | |
| Webometrics | 262 | 212 | 253 | 230 | 217 | 184 | 155 | 148 | - | 143 | 130 | | |