HCA students take part in the Great British Dig
28 September 2022
Getting 'stuck' in
The six students, who are all currently studying archaeology at undergraduate or postgraduate level, are part of the excavation team working at Cherryburn, in Northumberland.
Now a National Trust property, Cherryburn was the birthplace of Thomas Bewick, who in the 18th century, revolutionised the technique of woodcut engraving. By using blocks of wood which had been cut across the grain rather than along it, Bewick was able to create intricate, finely-detailed wood engravings depicting a variety of rural scenes and the natural world.
It's really fun to be back filming with the crew of the Great British Dig, and even better to have some of our students involved.
The excavation, which will feature in the third series of the Great British Dig, aims to explore the area next to the house where Bewick and his family lived to find the part of the original building which was later demolished. They also hope to find evidence of where the farm's orchard and market garden were.
Dr Chloe Duckworth, Reader in Archaeological Science, Newcastle University and one of the presenters of the Great British Dig, said: "It's really fun to be back filming with the crew of the Great British Dig, and even better to have some of our students involved. They are not only helping us to get a better understanding of the life of one of our finest artists and naturalists, but they are also developing important skills that are in-demand and will help them in their future careers, as well as ensuring we can continue to protect the history that is all around us."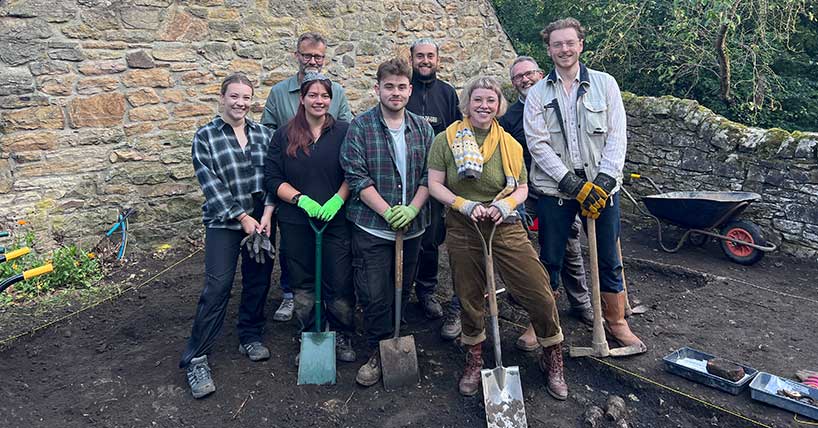 One of the students taking part in the excavation is 21-year-old Rhys McConville, from Sunderland. The Stage 3 student already has some experience of excavations from his course but working on a dig for television was something completely different. "Because we know we're only on site for a short period of time, it's a lot faster paced," he said. "This has been a great opportunity to work with professional archaeologists in the field – including Newcastle University archaeology alumni. It's really given me an insight into commercial archaeology and what to expect after I graduate."


Photograph courtesy of Chloe Duckworth/Newcastle University/Strawberry Blond