Welcome all stage 1 students
Congratulations on obtaining a place on our Law LLB degree!
The Law School induction begins on Monday 18th September 2023 and teaching will commence on the Monday the 25th September 2023.
You will find your activities and schedule for the induction week below.
This map will help you find your way to our Law School. Please see map reference number 38.
Induction timetable
The induction timetable is where you will find a breakdown of the sessions offered during induction week at Newcastle Law School. This year, it will run from Monday 18th September until Friday 22nd September.
Do remember that you are expected to meet with your assigned personal tutor within the next two weeks, starting Monday 18th September.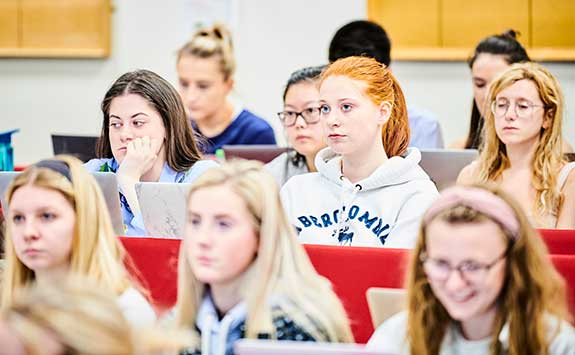 Pre-reading list
There is no obligation to read, listen to, or watch anything in particular before you start your degree. However, if you do have a bit of time and the enthusiasm then it will certainly be worth getting your mind tuned to law.
Our suggestions here are for sources that will help you to do that. Thinking about interesting questions in law is more valuable, at this stage, than starting to read textbooks or in any other way trying to anticipate the precise topics of your first year studies. This is a long list and there is no expectation that you would consult everything on it. We share this list only to provide you with some ideas.
Other than these suggestions, it will be very valuable if you just start thinking more about what is happening around you and how it relates to the law. So, for example, keep up with the news, read a good newspaper (and any legal section in particular) and listen to some law related podcasts.
Stage 1 pre-reading list 23/24 [PDF: 132.6 kB]
Induction timetable
*Please note: all face to face start times are provisional and subject to change*
Monday 18th September: face to face sessions at the Civic Centre
09.30 - 10.00 BREAKFAST
10.00 - 10.20 'Introduction and Welcome' delivered by Head of School Dr Jonathan Galloway
10.20 - 10.35 'Leading Through Values' delivered by Dr Nikki Godden-Rasul
10.35 - 11.00 'Values and Professional Ethics' delivered by Head of School Dr Jonathan Galloway and DPD Chris Fletcher
11.00 - 11.15 BREAK
11.15 - 11.45 'Stage 1 - Where to Begin?' delivered by Dr Sarah Morley
11.45 - 12.15 'Introduction to Foundation of Legal Skills (FLS)' delivered by Chris Fletcher
12.15 - 13.15 LUNCH
13.15 - 13.30 'Our Research' delivered by Prof. Kathryn Hollingsworth
13.30 - 13..45 'Peer Mentoring Scheme' delivered by Dr Sarah Morley
13.45 - 14.00 'Becoming a Newcastle Lawyer' delivered by Dr Tim Dodsworth
14.00 - 16.00 Peer Mentor Meetings with your mentor (in allocated campus rooms)
Tuesday 19th September
09.30 - 12.00 STAGE 1 LAW LIBRARY TOURS (Law Library - Please note: we will provide specific instructions about the Library tour groupings during your induction session)
Equality, Diversity and Inclusion (Canvas Online Session)
Wellbeing (Canvas Online Session)
Student Focus: Overview of the Pastoral Systems (Canvas Online Session)
Newcastle University induction sessions (Canvas Online Session)
Wednesday 20th September
09.30 - 12.00 STAGE 1 LAW LIBRARY TOURS (Law Library - Please note: we will provide specific instructions about the Library tour groupings during your induction session)
Student Community - Student Representation and Student Voice (Canvas Online Session)
Social Media and Online Safety (Canvas Online Session)
Communication: emails and office hours (Canvas Online Session)
Newcastle University induction sessions (Canvas Online Session)
Thursday 21st September - Canvas online sessions
09.30 - 12.00 STAGE 1 LAW LIBRARY TOURS (Law Library - Please note: we will provide specific instructions about the Library tour groupings during your induction session)
Canvas and NU Reflect (Canvas Online Session)
Zoom for Law (Canvas Online Session)
Microsoft Teams for Law (Canvas Online Session)
Newcastle University induction sessions (Canvas Online Session)
Friday 22nd September - Canvas online session
Employability and Enterprise (Canvas Online Session)
Pro Bono and Volunteering (Canvas Online Session)
Newcastle University induction sessions (Canvas Online Session)
*Please note: final timings will be sent via email on the day of the delivery*