Jack, Mathematics and Statistics PhD
Jack's thoughts on...
Choosing Newcastle
Having studied at Newcastle for my undergraduate degree, I couldn't imagine working anywhere else. I've gotten to know the department well over the years and I was looking forward to continuing working with them. More specific to my PhD topic itself, I am part of the Cloud Computing for Big Data Centre for Doctoral Training. This grabbed my attention when I was thinking about where to apply for my PhD as working jointly with the School of Computing would allow me to develop my computing skills. Computing skills are necessary for most maths jobs so this was important.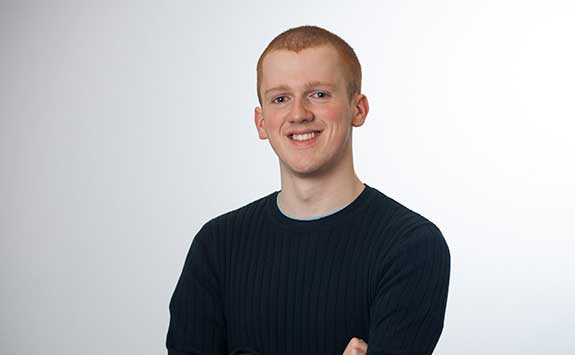 Studying at Newcastle
I have been very fortunate to be based in the newly constructed 'The Core' building, the first of the buildings completed at the new development, Newcastle Helix. This has been a great experience so far as we are based in a great office with businesses working on other floors of our building who have a lot of experience dealing with the types of problems we are researching. This was set up to help facilitate links and networks between local businesses and researchers.
It has been great working with my supervisor as well. I am given the freedom to go ahead with ideas that I've had but, should I be at a loss, we are always able to come up with something together that I could look into.
PhD study is more work but it's more fluid, you can complete it when you want to, which is easier to manage. I have three supervisors with whom I can discuss ideas. I am able to work independently whilst being together in an office with other PhD students. This fluidity makes it easier to manage the rest of my life and has also granted me more free time.
Postgraduate Community
While I knew coming into the PhD that the work I would be doing would be my own, it's great working in a place where ideas are constantly being bounced around. There is always somebody who has a good understanding of whatever is being discussed, so collectively we waste less time trying to resolve certain issues.
Funding my studies
I found funding information on the CDT (Centre for Doctoral Training) website. I am fully funded by the EPSRC, as it is part of the CDT. Alongside that, there are plenty of opportunities to make a little extra money helping out in the department both marking assignments and assisting the lecturers demonstrating in some of the larger classes.
Career aspirations
I've always enjoyed explaining and teaching maths to others, so it seems like a natural progression from postgraduate study to try and get into lecturing. Other than that it would be a shame if I didn't make use of my area of study when it's something I'm very interested in, so any work around cryptography or similar aspects would be great.
Remembering Newcastle
I think the most important part of Newcastle that I'll remember is how much it changed me, in a good way of course. I feel that now I'm much more capable to do things that an 18-year-old me could never have imagined I would ever be able to do and I don't just mean the level of maths that I study.