Undergraduate Mathematics, Statistics and Physics
You can choose to study from a range of mathematics, statistics and physics single honours and joint honours degrees. We also offer degrees with finance or business.
About the Transition Officer
Our Transition Officer will help you manage the transition from A Levels to undergraduate study.
The Transition Officer works with Stage 1 undergraduates to provide:
stage 1 pastoral and academic support
attendance and academic performance monitoring
stage 1 induction
weekly drop-ins
About peer mentors
We recruit peer mentors from our undergraduate courses. They provide support and guidance to new students as they navigate their first year at Newcastle University.
Mentors work with new first-year students, giving help when they need:
support
someone who listens
someone to go through their different options and talk through choices
knowledge about where to get specialist advice and help
The scheme is not a substitute for personal tutoring or subject advisers. It complements and supplements these systems.
We give peer mentors thorough training. Boundaries are established about the limits of their role and responsibilities. This safeguards both mentors and mentees. Mentors are supported by an administrative team.
If you're a current student and wish to apply to be a mentor, visit the mentor section on the School Blackboard community.
Award-winning Careers Service
Our award-winning Careers Service is one of the best, largest and most innovative in the UK. Our Careers Service is accredited against the Matrix Standard.
The Careers Service can help you find the right job up to three years after you graduate.
You can use their website to find graduate opportunities or IT-based Newcastle work experience placements.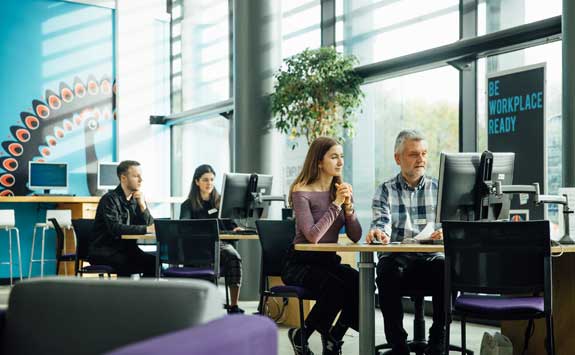 Funding
Our high graduate employability and low cost of living mean a degree from Newcastle is a sound financial investment. To help finance your studies, the University offers a generous range of scholarships. Find out about undergraduate tuition fees, student finance and Newcastle University Scholarships on our undergraduate website.
Maths Society
Mathsoc is our student society, run entirely by students from the School of Mathematics, Statistics and Physics but open to all students at Newcastle University.
Mathsoc organises a programme of social events and enters a number of teams into the university's Intra-Mural sports programmes. Details of forthcoming events are advertised via email and are displayed on notice boards throughout the school, including in the lecture rooms.
The society is run by a committee of students elected annually by its members. The membership fee is modest. All students are encouraged to join and to participate in the activities. If you enjoy organising or have any ideas for events, then don't hide your light under a bushel, get in touch with a member of the committee and join!