Postgraduate Taught Degrees
Join our thriving postgraduate community driven by excellence in both research and teaching.
Data science
Together, with the School of Computing, we're training the next generation of data scientists.
Data science is revolutionising science, engineering, and commerce. There is a high demand for trained professionals who can interpret and distil valuable insights using complex data sets. By the time you graduate, you'll be ready to take on these emerging challenges.
Where you'll learn
Our data science courses are taught in the Urban Sciences Building (USB). The USB is based in the Newcastle Helix area of campus.
It's equipped with outstanding facilities, including:
cyber-physical systems laboratory
decision theatre for data visualisation
flat floor teaching facilities
315 PCs with a Raspberry Pi3 on every desk
The building, and the surrounding area, is a living laboratory. It's underpinning research to make urban centres more sustainable for future generations.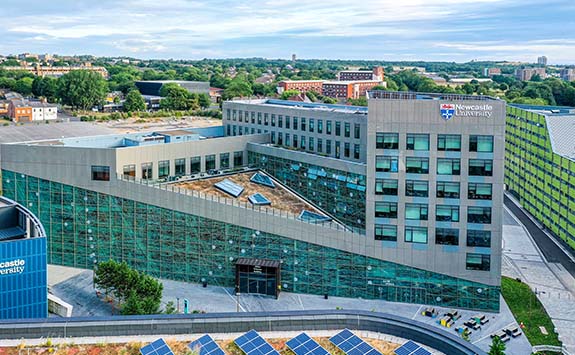 Research in the Helix
The Helix is a hybrid city quarter in the heart of Newcastle. The area is a hub for research and innovation. It's home to the Catalyst, the Biosphere, the Urban Sciences Building, the Fredrick Douglas centre and more.
Research at the Newcastle Helix focuses on:
cyber-physical systems
infrastructure
smart grids
the future of our city
big data