Maryam, Mathematics and Statistics PhD
Maryam's thoughts on...
Studying at Newcastle
It's really a wonderful experience studying here at Newcastle. I found myself in the midst of experts who are so enthusiastic about conducting research in their chosen fields.
I would definitely recommend my course. I enjoy the opportunities to travel and attend workshops and conferences within and outside the University.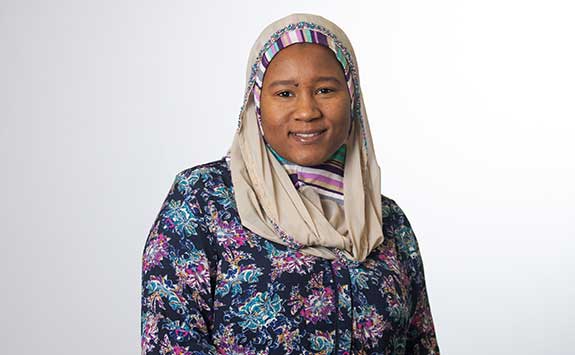 Choosing Newcastle
The University has a great reputation as being among the top universities in the UK. The campus is located right at the heart of the city which is amazing. Everything is really accessible.
Postgraduate Community
I really appreciate the large postgraduate community I have met here in Newcastle. A range of events are organised for postgraduate students by the Students' Union, they are fantastic and create an avenue for students to interact with each other. I have had the opportunity to attend events for student parents, where we can share experiences of what it is like to study and be a parent at the same time.
Funding my studies
Full information on scholarships was available on the University website before I applied which was great. I was also made aware of other funding opportunities but didn't need to access them given the Maths and Statistics opportunities which were available to me. I am being fully funded by the School of Mathematics, Statistics and Physics here at Newcastle University.
Career aspirations
I like to develop myself as a lifelong learner. I would like to remain in academia for as long as possible to conduct research and solve problems effectively. I would like to become a lecturer and feel that my time at Newcastle will really help to achieve this goal.
Accommodation
I live in a privately rented flat in a very popular area of Newcastle called Fenham. I like where I live, I have great access to a wide range of shops and restaurants which sell the type of food that I enjoy, for example they sell halal meat. It is a good community with a family feel.
Living in Newcastle
Newcastle is a nice place to be. I met a variety of people not only from the UK but from all over the world with different cultures.