Tom, Mathematics MPhil,PhD
Tom's thoughts on...
Choosing Newcastle
As with any PhD, the two most important factors are your supervisor and location.
I have been in Newcastle for six years now and have enjoyed every minute, so that was in the bag.
I had previously worked with my supervisor on a project. So with that level of familiarity already achieved I knew moving onto another area of quantum physics would be an easy transition.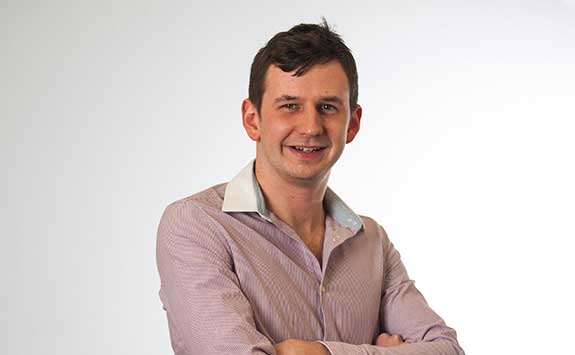 Studying at Newcastle
With my PhD, I really want to become a lecturer so teaching is a big thing I enjoy. You spend a lot of time meeting likeminded individuals. Newcastle University often boasts about its high impact of research. It's a great honour to try and contribute to that with my own research.
My PhD is great because it's really flexible. The workload is heavy but as I enjoy the subject I don't feel this so much. The nice thing about academia is that they like to have conferences in warm sunny places! For example last year I was in Japan, where I got to meet other physicists from the UK and from all over the world.
Postgraduate Community
The maths building (Herschel) has a large number of postgraduates, and as such creates its own community. I work in an office with eight other postgraduates, it is multidisciplinary and multinational. It is good to discuss ideas with people in what is quite an open environment.
Funding my studies
PhD funding in my department can come from the EPSRC or the School itself. Through enquiries in the department, I received information about EPSRC funding. This funding gives me more than enough money to live comfortably in Newcastle. The funding covers my monthly stipend for three and a half years, fees and travel. There are other paid opportunities such as marking or teaching provided by the University in order to gain a bit more income per month.
Accommodation
I live in Heaton, which is its own little community within Newcastle. It has lots of nice places to eat and easy links to the centre of town.
Living in Newcastle
Newcastle is not only one of the cheapest places to live in the UK but boasts so much culture! Everything you could ever want is within a 15-minute walk. There is a lot to do in Newcastle and places to socialise. The quayside is really picturesque and I also volunteer with friends at Kielder observatory.
Remembering Newcastle
As clichéd as it might sound I'll remember all of the friends I've made here the most. I still keep in regular contact with those from my undergraduate degree and organise visits around the world. During my PhD I keep meeting more and more people with similar passions and mindsets to keep me company here, until the next adventure.
A highlight so far has been getting my first paper published, and also the opportunity to go to Japan for a two-week summer school.