Harry, Global Purchasing Operations Business Partner at Jaguar Land Rover
About Harry
Course: BSc Joint Honours Economics and Mathematics
Graduated: 2017
Current role: Global Purchasing Operations Business Partner at Jaguar Land Rover
Why did you choose to study your course at Newcastle University?
I thought about what subjects I was good at, and also what I had an interest in. I enjoyed Mathematics and did well in it, and I have always been interested in the world's economy and its activity. I thought about where I'd like to live, and Newcastle seemed great and had a good reputation as a student city.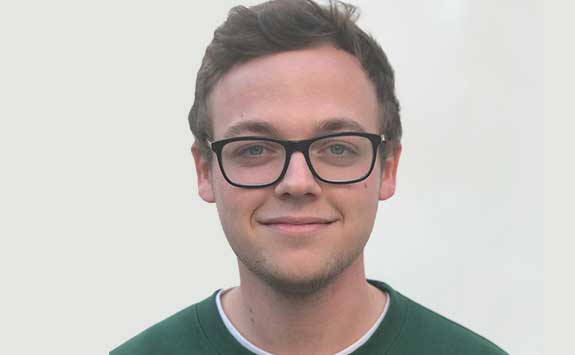 What did you like the most about your course? Did you do a placement in industry or project with industry? If so, how has this experience helped you in your career?
I liked the variety in subjects and the complete free reign over module choices in our final year as it meant we could tailor our degree to our liking.
I did a summer internship during the summer of first year. This was through my own contacts and not organised through the University. This gave me some basic business experience. In hindsight I wish I had undertaken a year in industry.
How would you describe the city of Newcastle upon Tyne?
The best city in the world. It has the feeling of a big city squeezed into a small space. It's beautiful, friendly, fun, cold, exciting and more. There's loads to do and see, it's cheap but doesn't feel cheap. I have nothing but praise for Newcastle (except for delayed Metros!)
What do you think about the clubs and societies that you could join? If you were a member of one, what sort of activities did it involve?
I was President of the Raising and Giving Society in my final year, which gave me employability skills that I used in my day job and the confidence to approach new situations. I made friends for life through societies. I was also part of the 20 Minute Society, Cocktail Society, Badminton and my course society. These all involved socials, fundraisers, holidays and team building.
Where do you work now and what does your role involve?
I work at Jaguar Land Rover on the Purchasing Graduate Scheme, with my first 18-month role being in Global Purchasing Operations. In this role, I support the National Sales Centres and Production plants outside of the UK and integrate them with the central UK business, with the aim of ultimately being a Global company.
Were you involved with the Students' Union (societies, sports, sabbatical officer) during your time at Newcastle? If so, how has this impacted on your career after University?
Yes. I was a student trustee in my final year which is an incredible thing to have on your CV as I was a director of an £8 million pound institution at the age of 21. This exposed me to decision making and experience that is invaluable. My roles on society execs and Freshers' Week also gave me significant experience and skills for my post-university career.