Exploring microplastics in zooplankton
Many animal species that live on land and in the sea eat plastics. These include humans and other large mammals, and tiny organisms including bacteria, algae and plankton.
The foundation of the aquatic food web
Plankton are a food source for many marine species, and are 'the foundation of the aquatic food web', according to NASA. This makes plankton valuable to marine ecosystems and essential to fishing and aquaculture.
Plankton ingest 'microplastics', the by-product of broken down plastic. They can also accumulate in fish and other larger organisms that eat them.
The extent of plastics in plankton is a topic studied worldwide. One such institution is the Dove Marine Laboratory at Newcastle University. Dr Priscilla Carrillo-Barragan is conducting post-doctoral research on microplastics in zooplankton here.
Priscilla also completed her first PhD in bioethanol production at Newcastle University.
For her PhD research, Priscilla developed a mixed-source bacterial community. This produced ethanol from the organic fraction of municipal solid waste.
Her knowledge in chemistry and environmental biology was crucial to her research. Priscilla reduced the growing amount of organic waste landfilled in Mexico City. She intends for her PhD to improve air quality conditions.
Priscilla has expertise in zooplankton taxonomy and microplastics analysis. She was already familiar with similar techniques such as bacterial taxonomy and TG-QMS (thermal analysis) from her PhD.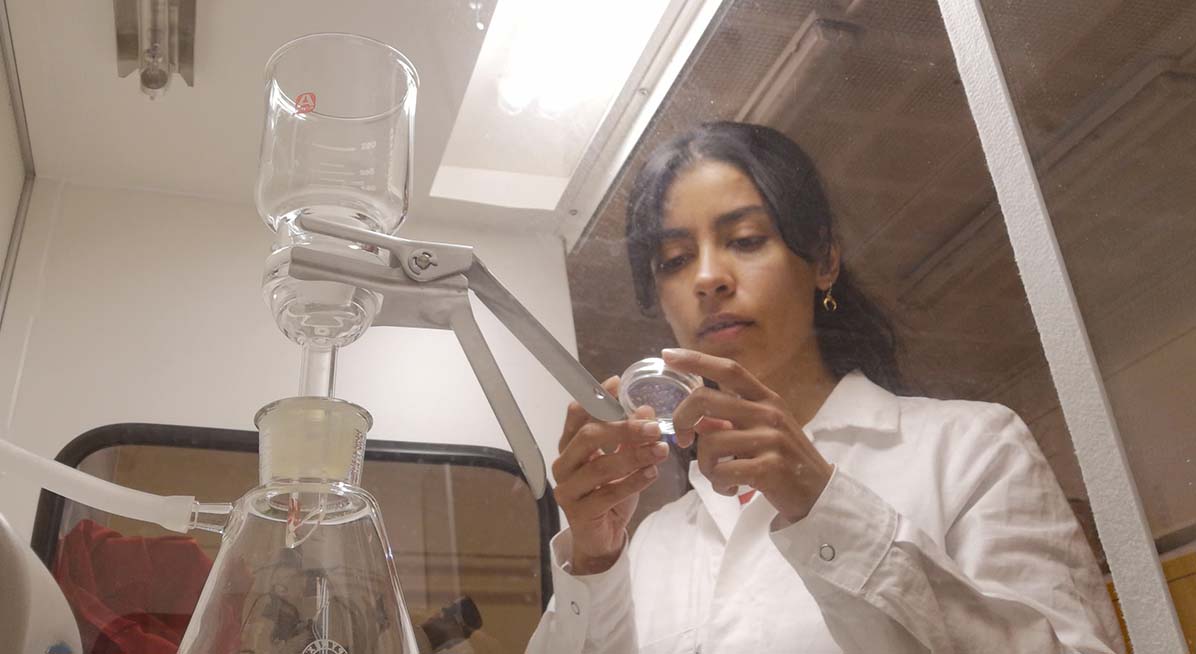 The Northumberland coast
Inspired by David Attenborough, Priscilla's academic research focused on plastics in our oceans.
Priscilla is studying an archive of zooplankton collected off the coast of Northumberland by scientists at the Dove Lab. The archive contains close to 1,000 samples, which dates back to 1969.
Her work examines which plastics the plankton have ingested. She identifies the species and the plastics inside them using a microscope and infrared spectroscopy. The first sample Priscilla is studying is from 1971.
The aim of the research is to help inform local conservation policies and legislations. Particularly economic decisions that shape the potential impact of microplastics pollution.
The samples include those which are commercially-important to the Northumberland coast. They include:
crabs
fish larvae
scampi
lobster
So far, plastics have been found in all marine organisms tested in the world, but this is the first time they will be tested in North East England.
Priscilla will investigate if levels of microplastics have risen over time. She will also look for trends of microplastic accumulations from the plankton samples.
Much of the research in marine biology tends to be more qualitative. Yet Priscialla's plankton research is more quantitative.
She will share the learning from her research with marine biologists and hopes it could impact society outside academia.
"Scientific research on plastics in the ocean influenced the 5p charge on plastic bags. Hopefully my research would also support similar policy decisions. Instead of only describing the problem, I would like to contribute to solutions for our oceans", says Priscilla.