Paediatric Haematology and Oncology Research
We aim to provide the best possible treatment for every child with cancer.
Our Wolfson Childhood Cancer Research Centre opened in 2016. It brings together over 90 scientists and clinicians. They are supported by state-of-the-art facilities, including the Children's Cancer North Research Laboratories.
Our multi-disciplinary research teams work to advance our understanding of childhood malignancy. We translate these findings into improved treatments.
Our research encompasses:
characterisation of the molecular mechanisms of cancer development
exploration, preclinical and clinical evaluation of new treatment targets and concepts
biomarker development to improve patient management and deliver personalised therapies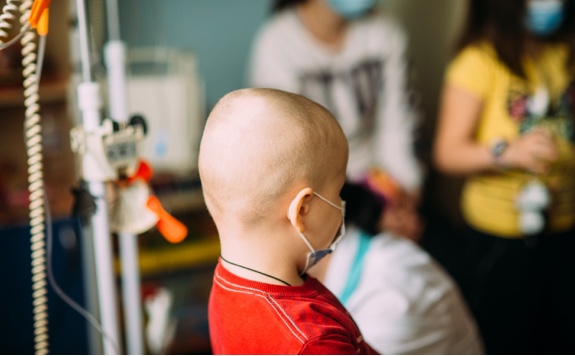 Our vision
Advances over the last forty years have delivered good cure rates for many childhood cancers. But there are still many challenges.
A significant proportion of children will still succumb to their disease. Outcomes are not uniform, either within or between different disease types.
Current therapies are based on aggressive treatments with significant side effects. These impact the long-term quality of life for many surviving patients.
We are addressing these challenges by:
comprehensive characterisation of disease molecular pathology
exploring mechanisms of disease origin, progression and relapse
developing novel treatments with improved efficacy and fewer side effects
identifying and validating biomarkers to improve patient diagnosis, stratification and management
running clinical trials to test new treatment approaches
Our groups
We focus on six major areas:
leukaemia
neuroblastoma
early-phase clinical trials
Cancer can affect people of all ages.
Childhood solid tumours are distinct from those observed in adults and cure rates are significantly higher. Haematological cancers are responsible for considerable morbidity and mortality in all age groups. These cancers include acute and chronic leukaemia, lymphoma, myeloma and other malignant conditions
Our overarching aims are:
better understand the molecular mechanisms which drive the development of the disease
harness this information to improve the therapy and outcomes for children with cancer and patients with blood cancer
How we work
We use state-of-art technologies such as next generation sequencing and CRISPR gene editing to investigate the genetics and biology of these cancers.
We have also developed sophisticated classification models using molecular and clinical markers to:
design novel clinical trials
develop new treatment methods
improve outcomes for all patients
Impact of our work
Our work in childhood tumours and leukaemias has led to improved methods to prospectively identify children at high risk of disease relapse. They are now treated more effectively leading to improved survival.
Our work in adult haematological cancers focusses on understanding how disease develops and progresses at a molecular level. We use this information to develop effective treatment strategies with fewer side-effects that are better tolerated by older patients with co-morbidities.
Collaboration
To develop our research groups we collaborate extensively with national and international groups.
We also work with:
NHS colleagues at the Royal Victoria Infirmary and the Freeman Hospital
National Cancer Research Institute (NCRI) clinical study groups
Genomics England
Where we work
Most of our research takes place in the purpose-built Wolfson Childhood Cancer Research Centre. It opened in 2016. It brings together over 90 scientists and clinicians. We are supported by state-of-the-art facilities, including the NECCR Research Laboratories.
Principal research groupings
Childhood Acute Leukaemias
Paediatric Brain Tumours
Adult leukaemia, lymphoma and myeloma
Childhood Lymphomas
Neuroblastoma
Paediatric pharmacology
Early-phase clinical trials
Cell signalling
Survivorship
Bioinformatics
Chromosome biology
You may also be interested in: