Professional Learning and Practice
Our research encompasses policy, theory and practice in professional learning.
Crossing disciplinary and organisational boundaries
Our research encompasses policy, theory and practice in professional learning. It covers a range of contexts. Staff are represented from compulsory and higher education, medical education and educational psychology. Our research provides professionals with knowledge, skills, and tools to work together, crossing disciplinary and organisational boundaries.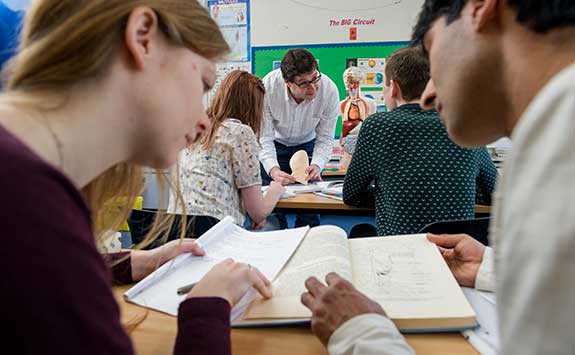 Co-creation of knowledge
The co-creation of knowledge with our users is a dominant feature of our approach to transformative research. Much of our work illustrates this.
Co-curate North East
The Co-curate North East project brought together:
online collections
museums
universities
schools
community groups
The made and re-made stories and images from North East England and Cumbria. It opened up 'official' museum and 'un-official' co-created community-based collections and archives. The project used innovative collaborative approaches like social media and open archives/data.
Horizon 2020 ACCOMPLISSH
The Horizon 2020 ACCOMPLISSH project explored research co-creation to enhance impact. We identified that:
research impact is best encouraged by establishing authentic, reciprocal relationships with collaborators (including young people)
different kinds of research methods and tools are needed in order to conduct effective co-produced research
knowledge brokers can play a critical role in co-production of research
Recent work
Examples of our recent work include:
Publications
Examples of publications in this area:
Koglbauer, R. (2020) Focus on ALL … and our 30-year commitment to engagement. An interview with Christine Wilding. Languages Today, Winter 2020, Association for Language Learning, pp. 12-13.
Koglbauer-Franklin, R. and Hazell, C. (2020) The last word: Overcoming adversity together. Languages Today, Summer 2020, Association for Languages Learning, p. 41 Online: Downloads/Language-Today-Issue-35-May-2020%20(4).pdf.
Leat, D., Thomas, U., Hayward, K & de A'echevarria, A. (2020) The Good, the bad, the disconcerting – a week in the life of university project based learning (PBL) week for schools, in M. Steer, S. Davoudi, M. Shucksmith and L.Todd (eds) Hope under neoliberal austerity: responses from civil society and civic universities, Bristol University Press.
Gibbs, S., Beckmann, J.F., Elliott, J., Metsapelto, R-L., Vehkakoski, T. & Aro, M. (2019) What's in a name: the effect of category labels on teachers' beliefs European Journal of Special Needs Education, 35(1), 115-127 http://dx.doi.org/10.1080/08856257.2019.1652441
Robson S, Wihlborg M. co-editors, special issue: Internationalization of Higher Education: impacts, challenges and future possibilities. European Educational Research Journal Volume 18, 2, 2019 https://journals.sagepub.com/eprint/wi5BEvwgz6rc774Fm4zV/full
Gibbs, S. (2018) Immoral Education: The assault on teachers' identities, autonomy and efficacy Abingdon: Routledge
Leat, D. and Thomas, U. (2018) Exploring the role of 'brokers' in developing a localised curriculum, The Curriculum Journal, 29:2, 201-218.
Staff
Staff working in this area include: