About Speech & Language Sciences
We have an international reputation for the quality of our research and teaching.
Study speech and language science with us
Our teaching is evidence and research based. We combine traditional and problem-based learning approaches in labs, classrooms and clinics. Our lecturers and practice educators bring a high level of expertise and academic rigour. They provide a first-class learning environment. Our students have a depth and breadth of knowledge and experience. This enables them to adapt and shine in the workplace and in further study.
If your career goal is to become a speech and language therapist we have three degree-level study options for you to choose from. They're approved by the Health and Care Professions Council (HCPC) and accredited by the Royal College of Speech and Language Therapists. Newcastle was the first university in the UK to offer degree-level training in speech and language therapy.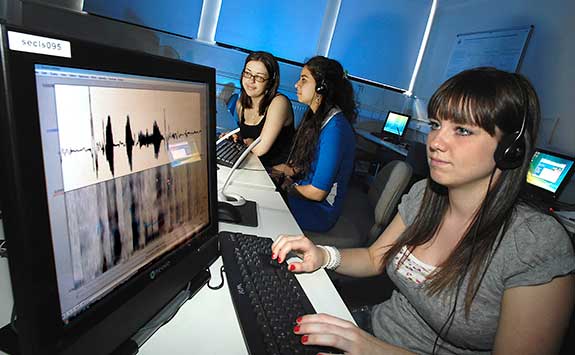 Clinical experience
Student speech and language therapists at Newcastle experience a varied and immersive clinical experience. This is across all stages of their degree.
Speech and language sciences research
Our research focuses on human communication throughout the lifespan. We foster national and international interdisciplinary research collaborations. Our research expertise is wide ranging. We combine theoretical and practical approaches to optimise the outcomes of our research. Our work in building research capacity in speech and language therapy services in the North East of England is renowned.
We plan and conduct research through close partnerships with:
health, education and voluntary organisations
individuals with speech, language and communication difficulties
This contributes to knowledge about both normal and disordered communication. It advances theoretical understanding and models of speech and language processing. It advances understanding of assessment and intervention within speech language therapy.
Our areas of research are:
Children's speech and language
Language, cognition and communication disorders in adults
Phonetics and phonology
Research outreach and collaboration
We work closely with practice partners in speech and language therapy, education and technology. We aim to develop and nurture fair, creative and productive partnerships. These partnerships benefit research, teaching and practice.
Researchers in speech and language sciences engage with individuals and groups. This helps to develop and conduct our research. We're always happy to explore new collaborations. We want our research to address the important questions in our field. This happens best when we work in partnership.
Find out more about our partners
Resources and information for speech and language therapists
We've developed a series of resources for speech and language therapists (SLTs) for use in clinical practise.
Our Extranet contains all the information that our practice educators need.