Technology and Education
We have a long history of research in the area of learning and teaching using technology.
Collaboratively developing educational technology
We created iLab:Learn in 2009 to develop the next generation of educational technology. It's a long-term joint venture between applied linguistics specialists in the School Education, Communication and Language Sciences and the School of Computing. iLab:Learn is located in the King George VI Building.
The School Education, Communication and Language Sciences and the HaSS Faculty contributed funding for space and installations. The School of Computing contributed digital technology and expertise. The facility and the collaboration have attracted significant funding for more than a decade. Examples of funded projects are provided below.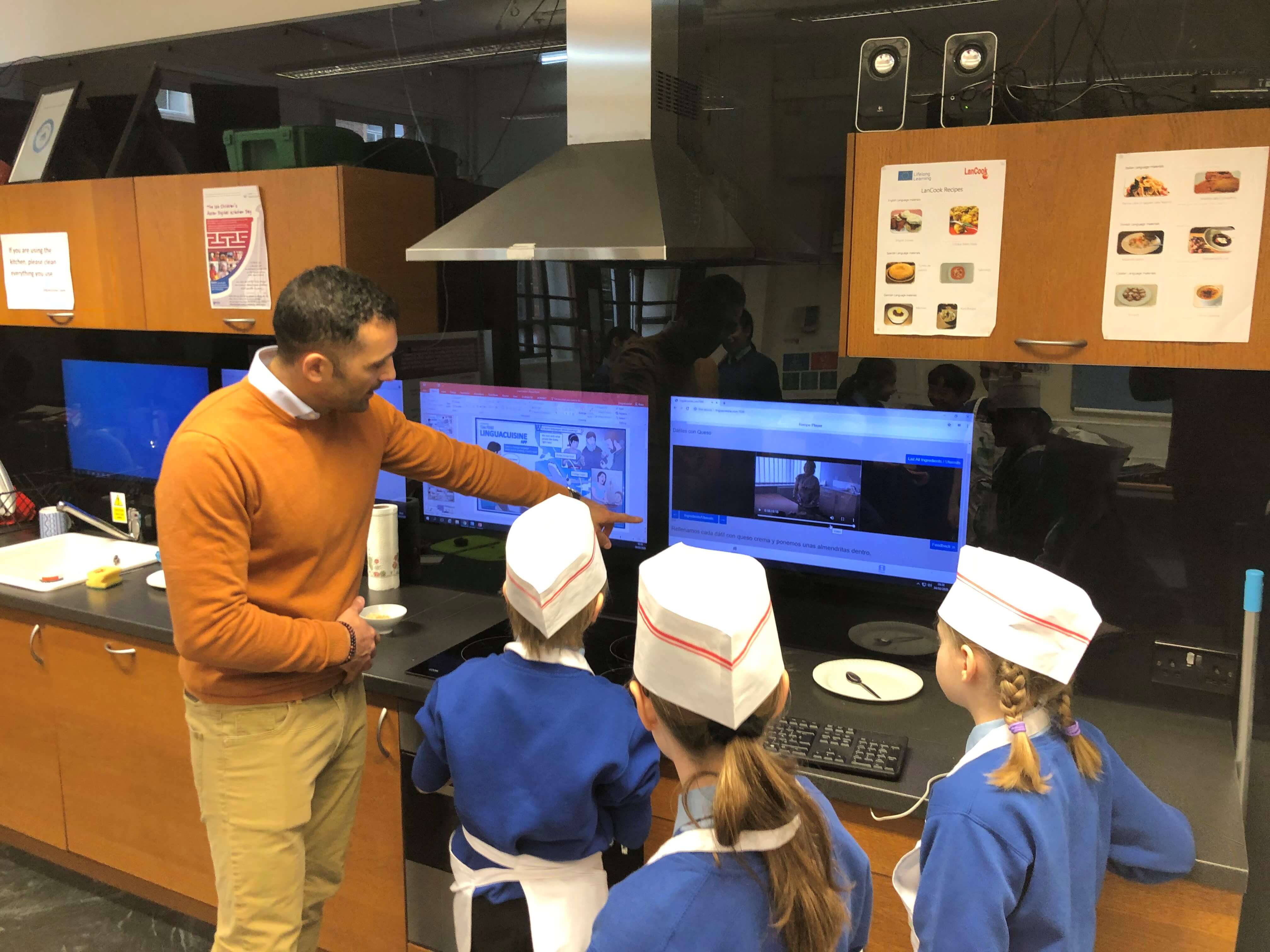 The digital kitchen
The digital kitchen is digital technology for learning languages while cooking. Over a 10-year period, we've developed three generations of the digital kitchen.
Digital kitchen success
Generation 1 won the EU European Language Label prize 2012. EPSRC published an impact case study on the project.
Generation 2 was shortlisted for the e-learning awards 2013 and the ELTONS digital innovation 2014.
Generation 3 (Linguacuisine app) was selected in 2020 for the HundrED Spotlight on Bilingual Education "as one of the world's most inspiring innovations in Bilingual Education." Erasmus Plus and HundrED published impact stories on the project.
ilab:learn's main focuses
ilab:learn's main focuses are:
exploring ways in which technology can help effective language learning
describing and analysing the language promoted by the use of technology
studying foreign language learning and teaching in technology-enhanced and online environments
investigating issues in second language learning
Data analysis and collection
We do this by collecting multiple sources of data such as:
recordings of language learners' and pre-service teachers' online communication
interviews and questionnaires
video- and audio-recordings of classrooms and other professional settings
We help teachers to analyse these recordings using a range of tools and procedures. Analytical techniques include:
multimodal analysis
content analysis
social network analysis
thematic analysis
VEO (Video Enhanced Observation)
stimulated recall
interaction analysis
discourse analysis
quantitative methods
Examining how languages are learned and taught
We also examine how languages are learned and taught via computer-mediated communication, telecollaboration, blended learning and distance education.
Through dialogic reflection and using technology, teachers (and other professionals such as doctors, engineers and architects) gain closer understandings of their professional communication and improve their workplace practices.
Our work looks at phenomena such as:
collaborative online interaction and language learning
second language learning and teaching in technology-enhanced environments
reflective practice for second language teacher education
social presence
multimodality and digital literacies
Research projects
Current and recent research projects include:
'Language Learning in the Wild', 2010-2012. Grant of £156K from the EPSRC Digital Economy Programme (Seedhouse)
Grant of €400K received from the EU Lifelong Learning Programme for project 'Learning Languages, Cultures and Cuisines in Digital Kitchens' 2011-2014 (Seedhouse)
Linguacuisine, a €324K Erasmus Plus KA2 Strategic Partnerships for Adult Education grant 2016-18 (Seedhouse)
Video Enhanced Observation Europa, a €270K Erasmus Plus KA2 Strategic Partnerships for School Education grant 2015-17 (Seedhouse)
Propic, a €76,780 Erasmus Plus KA2 Strategic Partnerships for Higher Education grant 2017-20 (Seedhouse)
IELTS VEO, a £26.5K IELTS grant from British Council 2018-20 (Seedhouse & Satar)
Communities, Languages and Activities App (ENACT), a €270K Erasmus Plus grant 2019-2021 (Satar & Seedhouse).
SOLEs (Self-Organised Learning Environments) are a form of innovative pedagogy in which students self-organise in groups and learn using a computer with minimal teacher support, typically considering a single difficult ('big') question.
The Causes and Remedies for Marginalization and Underrepresentation in Global Virtual Exchange Initiatives: A Comprehensive Survey of Stakeholders in Four Geopolitical Sectors, funding by Stevens Initiative ($19,6190, 2021 (Satar).
A team led by Satar delivered the International Virtual Exchange Conference (IVEC2020) from Newcastle as a virtual conference for the first time ever!
Watch a video from the HundrED Innovation Summit of Paul Seedhouse and Alison Whelan explain and demonstrate the Linguacuisine app in our digital kitchen.