Andreas Krug
PhD in Speech and Language Sciences.
About Andreas
Year started: 2019
Nationality: German
Choosing Newcastle
After finishing my teaching degree in Germany, I wanted to pursue my interest in linguistics further. With so much interesting research in linguistics going on, Newcastle was the perfect place to choose.
The course
Doing your own PhD research is both challenging and rewarding. You learn to work autonomously but there are a lot of other bright students in the School of Education, Communication and Language Sciences that will help you out when you get stuck in your research.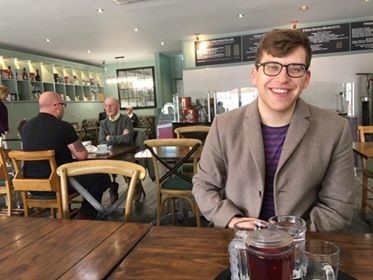 Being a postgraduate
As a PhD student, you get the chance to really immerse yourself into your field of research. However, you also learn to broaden your horizon and find out about projects and opportunities that might not be directly related to your research. You learn to manage your time and set yourself goals throughout the PhD journey.
Postgraduate community
There are a lot of PhD students in the School of Education, Communication and Language Sciences with fascinating research projects. You can join a research group to talk to students and staff with similar interests but there are also social outlets when you have had enough of your research for a bit. I personally found a lot of friends through the PGR Community society, which you should definitely join when you come to Newcastle.
Accommodation and living in Newcastle
I have been living with my partner in private accommodation ever since I came to Newcastle. There are many options though, including University accommodation, private student accommodation or sharing a house with (soon to be) friends.
Living in Newcastle
Newcastle is very convenient because you can walk to most places. You can be by the coast within less than an hour and enjoy the parks in the city. There are many students in Newcastle, which is great as well.