Sport and Fitness in a Safe Environment
How Sport and Fitness at Newcastle are working to keep you safe when we reopen to staff and students following the COVID-19 closures.
Additional measures and procedures
Working with departments within the University such as the Emergency Management Team, Health and Safety, People Services and Estates, as well as working to Government and National Governing Body (NGB) guidance, including guidance from UK Active, Sports Services have introduced additional measures and procedures during this time:
reduced capacity (to ensure social distancing is maintained at all times)
activity area user capacity monitored at all times
pre-bookable training slots (a maximum of 60-minute gym slots) - book online or via our app
increased cleaning and sanitising stations, encouraging users to wipe down equipment before and after use
directional signage for entry and exit to activity areas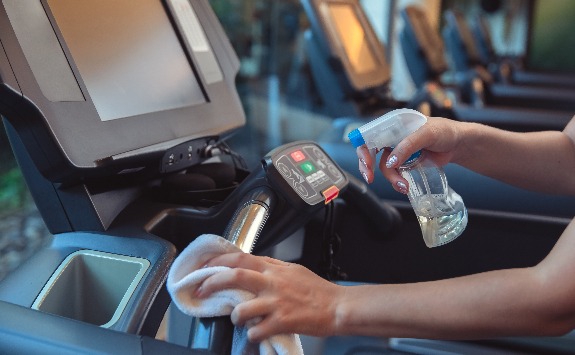 Keeping you safe when we reopen
protective screens installed at reception
equipment laid out to enable social distancing (Gym – 2m / Studios – 2.5m)
each fitness class participant will have their own workout station
sanitising spray and paper towel stations in activity areas to wipe down equipment (before and after use)
no sharing of equipment (no spotting in the gym)
no rental equipment for casual sport bookings
no gym/sweat towels (use paper towel provided)
we highly encourage participants to arrive ready to train, bring their own water and equipment (racket, exercise mat)
there will be a 15-minute crossover between gym and class slots to minimise congestion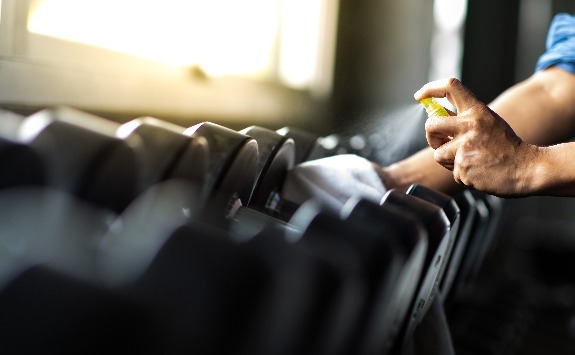 Sport and Fitness Centre User Responsibility
We've put a lot of changes in place, but for these to be most effective we all must do our part. Aside from respecting the government's safety guidelines, we ask that any member using our activity areas will help with cleanliness and hygiene best practices by adhering to the following training etiquette.
Gym and Group Fitness Classes
If you feel unwell (fever/flu like symptoms), please stay at home anmd stay safe
Pre-booking your gym session, fitness class, sports hall space guarantees your spot
Regularly wash your hands or use the hand sanitiser provided
Please ensure to practice social distancing (2m)when in the Sports Centre
Clean all equipment before and after use
Keep your gym workout to a maximum of 1 hour
Gym/Sweat towels are not permitted – please use blue roll provided
We ask you to arrive no more than 5 minutes before your booking (to limit crossover)
Personal items – we highly suggest bringing only the necessities
Water – we strongly urge you to bring your own water (there is no water available in the gym and spin zone)
Face Masks – face coverings should be worn at all times except in activity spaces when exercising or when showering
Follow our directional signage for entry and exit to the activity areas (gym, studio, S&C, sports hall)
Late entries – once the gym door closes 15 minutes after the booking start time, we won't be able to let latecomers in
Changing rooms, showers and lockers will be unavailable in the gym until further notice. These facilities will be available in our new sports centre but we encourage all participants to come ready to train
Casual Sport Bookings
Please wipe down key touchpoints on any equipment that you use during your session eg if you play badminton, please wipe down both posts, the top of the net and the tightening ropes on either side of the net.
Use the sanitising stations at either side of the sports hall to maintain the highest levels of hygiene for yourselves and others as possible.
Follow any advisory signage around the centre, or for more information please do not hesitate to speak to one of our members of staff who would be more than happy to assist you with any queries you may have.
Unfortunately, during this time, we will not be offering temporary equipment loans for any casual activities. Therefore we recommend that you arrive with all equipment you require for the session. We will sell badminton rackets, table tennis bats and basketballs at reception. However, these are subject to availability. Please ask at reception for more information.
We will continue the sale of consumable items (shuttlecocks, table tennis balls and squash balls) at reception.