Clinical Placement Experience
Student speech and language therapists at Newcastle experience a varied and immersive clinical experience across all stages of their degree.
Sharing our passion for speech and language therapy
You'll take part in clinical placements in external organisations and in our in-house campus clinics. You'll benefit from our partnerships with:
NHS Trusts
schools
independent speech and language therapy practices
They provide a diverse range of placements.
Our campus clinics provide close integration of academic and clinical teaching. Practice educators comprising clinically qualified academic staff work alongside practice colleagues. We're keen to share with you our passion for speech and language therapy.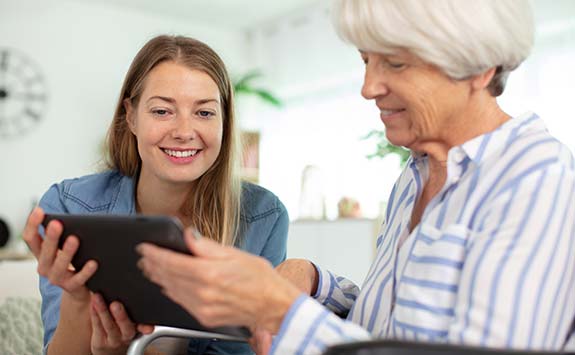 Campus clinic placements
Newcastle University was the first university in the UK to offer in-house clinical placements to speech and language therapy students.
Our on-campus clinic comprises two extensive suites of treatment rooms for group and individual therapy. It has observation rooms, a waiting room and a cafe.
State-of-the-art technology
Our campus clinics are equipped with state-of-the-art technology to allow delivery of therapy both in person and remotely. Practice educators observe each session through a closed-circuit monitoring system.
As a student speech and language therapist, you're able to reflect on your feedback while watching your session recording. New knowledge and skills are incorporated into your next session and you observe your progress in your next recording. You'll have access to extensive resources for both assessment and treatment. You'll have access to our labs for acoustic analysis.
All students have the opportunity to work in both:
This ensures you gain vital, early experience with both children and adults with speech, language and communication difficulties. In these placements, you may work in pairs and small groups. This promotes peer support and collaborative practice.
External clinical placements
Your clinical learning continues on external clinical placements in speech and language therapy services across the North East. This builds on your experience in the campus clinics.
The University and local speech and language therapy services work in partnership to provide a varied and high-quality experience.
There are opportunities to work in a range of settings eg:
hospitals
schools
residential care
There are also opportunities to work for a range of providers eg:
NHS
charities
independent practitioners
You'll get access to a wide variety of clients with speech, language and communication and/or swallowing difficulties.
Block placements
Block placements allow in-depth experience of the workplace. They provide a greater understanding of the wide role of the speech and language therapist and their work as part of multi-disciplinary teams in evaluating service provision.
Quality placements
We ensure the quality of placements through regular meetings between University staff and clinical managers and representatives from placement providers. We train practice educators so that they know about the content of our academic programmes and how to best support student learning. Practice educator training ensures equity for assessment of clinical competencies demonstrated on placement.
Resources
We provide an extranet of information and resources for our practice educators.
We have extensive resources for students on placement.