Counselling
Our counselling services give you a safe and confidential space to talk to a trained professional about your issues and concerns.
What is counselling?
Counselling (sometimes referred to as therapy) is a talking therapy that gives you the opportunity to explore your issues and concerns in a safe and confidential space.
Your therapist will help you to explore your thoughts, feelings and actions to develop your understanding of, and give you practical methods to deal with emotional challenges.
How does counselling work at the university?
We provide time-focused counselling for students who are struggling with a range of life concerns.
We currently provide a 1 + 1 approach to counselling in-person, over the phone or via video/audio calls on Microsoft Teams.
This means we provide help at the point of need and treat each situation individually. The counselling we offer is a brief therapy model and if you require longer-term therapy, we will support you with a referral to a more appropriate provider.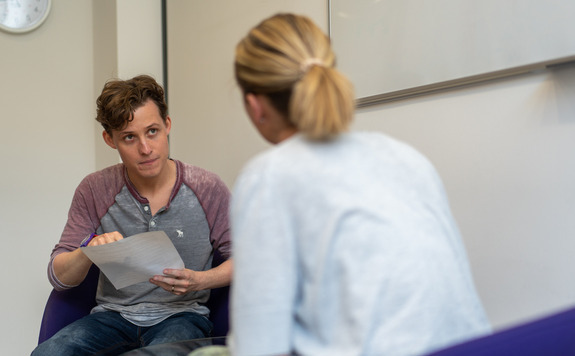 Initial appointments
Your initial appointment will be with one of our counsellors and will last around 20 minutes. It will be an audio call via your university Microsoft Teams account.
This appointment is used to establish:
what concerns you have
the impact this may be having on you at university and on your studies
options for the most appropriate support for you at this time
What happens next?
Sometimes the initial appointment itself can resolve the current concern and you may not need any further support at that time.
During the call, you may be recommended:
counselling from the university
counselling or specialist support via your GP
support from a specialist mental health support service
When can I access counselling?
If university counselling is deemed the most appropriate support for your needs we offer counselling appointments during the following times:
09:00 - 21:00 Monday - Thursday during term time
09:00 - 17:00 on Fridays during term-time
09:00 - 17:00 Monday - Friday outside of term time
Online support
We also offer a free range of online therapeutic self-help resources through SilverCloud to all our students.
SilverCloud is a suite of online CBT (cognitive behavioural therapy) programmes that can be tailored to your specific needs. It's been developed over the course of 10 years and has helped many students improve their mental health.
Wellbeing workshops
We offer a variety of helpful wellbeing workshops, throughout the academic year to help you maintain or improve your wellbeing while you study here at Newcastle.
My therapist was brilliant. They were incredible at their job and provided me with long lasting support mechanisms which I hope help me for a long time to come.