Estranged Students
If you're estranged from your family, coming to university can be challenging. We provide specialist support for estranged students.
Am I an estranged student?
We support many students due to estrangement. There are a number of complex reasons a student may be estranged, including:
emotional or physical abuse by family members
threats or experience of 'honour'-based violence or forced marriage
familial rejection based on sexual orientation or gender identity
being disowned for pursuing education or a particular course of study
homelessness or risk of homelessness
experience of intervention from social services
We believe you're an estranged student if you're studying without the emotional or financial support of a family network.
Studying without the support of loved ones can be isolating, and we're committed to supporting you.
As part of our commitment to supporting students facing estrangement, we aim to provide:
financial support
accommodation
mental health support
outreach services
Even if you don't fully identify as estranged or you don't feel you meet the criteria, we'll still support you.
We also have a helpful resource which includes information on how you can get support as an estranged student while studying with us. If you'd like more information on our services, please email our initial point of contact for estranged students (IPC) - Anja Atkinson (pictured).
Our Students' Union can also help. View their support pages.
You can find out more about external support services on the StandAlone website.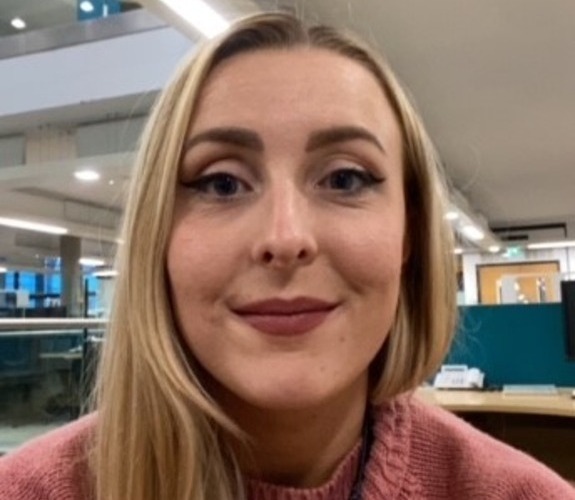 Our support for estranged students
Financial support
Our Student Financial Support team will provide bespoke support and resources. They'll help maximise the funding you can access from the Student Loans Company and university hardship and scholarship schemes. The team can also help you develop the skills and resources you need to improve your money management.
The Student Financial Support Team can also assist you with obtaining evidence to apply for the Participation Bursary, which aims to help you to take part in various Students Union extracurricular activities.
Student Finance England (SFE) Guide to Independent and Estranged Student Status
Flowchart: Applying to Student Finance England for Estrangement
Accommodation
Without family support, finding and maintaining a home can be a real challenge. We can provide the support you need.
You'll need to complete our online application for accommodation before the guarantee deadline of 31 July and tell us your preferred accommodation. We'll give you priority for alcohol-free accommodation and, if we can, place you in your accommodation of choice.
Our Accommodation Support team will support you all the way. First, our ResLife team will help you to move in and get settled. They'll also help you engage in our social and educational programme throughout the year. You can contact the ResLife team by email on: ResLife@ncl.ac.uk
If you need summer accommodation, we can also provide that. You may need to change rooms, but we'll support you with the move if needed, via our summer extension programme. If you have any questions, you can contact the allocations team via email on: allocations-enquiries@ncl.ac.uk
Mental health support
As you may not have the support networks that other students do, we understand you might need more help from us. Our counselling, pastoral care and disability teams are here to help you.
You can contact the Student Wellbeing team on 0191 208 3333 between 09:00-17:00, Monday to Friday. We'll always try to prioritise your support.
If you have a need for immediate support on campus, you can get in touch with our University Security team 24/7 on 0191 208 6817.
Outreach
We offer a range of additional support at all stages of your university journey. Prospective and current students can access support from a named member of staff who can:
answer questions about the university application process
signpost to appropriate support
provide guidance about any other Newcastle University service
While you're here, you'll also receive regular contact from your named member of staff, with a range of dedicated information and opportunities across campus.
If you're estranged, you're automatically eligible for our supported access route to study at Newcastle University, PARTNERS (essential conditions, including grade requirements, still apply).