Sport and Active Wellbeing
We're here to help you with looking after your physical health as well as your emotional wellbeing.
We offer a range of bursaries, funds and provisions. This ensures all students can take part in our sport and active wellbeing activities.
Our Sport and Fitness Centre is conveniently located on campus. It's location number 70 on the campus map, just past the Ridley Building and Medical School. We also have purpose-built pitches, pavilions and centres at easy-to-access locations around Newcastle. We invested £30 million in our exceptional indoor and outdoor facilities. They come with state-of-the-art equipment and functional training spaces.
Immerse yourself in our inclusive sports community by taking part in group fitness classes. Try out our popular Give It A Go and Intramural Sport programmes. Or, play casually with friends by booking a court to play sports such as squash, badminton and basketball. Check out our Health & Wellbeing Hub for further resources to support your sport, health and fitness goals.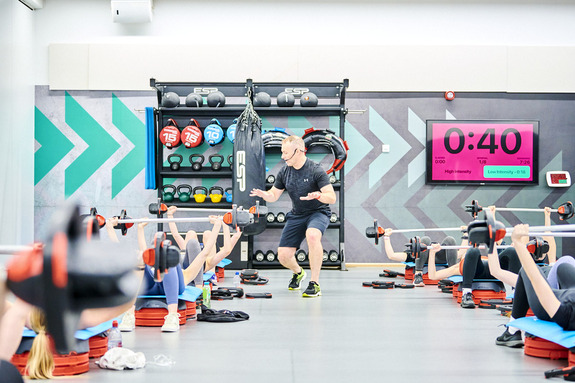 Gym memberships
Based in our Sport and Fitness Centre, our large open-plan gym has over 180 stations. It's fitted with the latest high-performance equipment for you to reach and maintain your fitness goals.
We have membership offers available throughout the year, as well as Pay As You Go (PAYG) bookings. If you'd like some support with your fitness journey, we also have individual and buddy personal training sessions. They're available for any fitness level.
Fitness classes
Join any of our 50+ live group fitness and wellbeing classes, designed for all abilities, in our advanced studio spaces.
enjoy fast-paced, high-intensity workouts like spin and spin tone
fuel your cardio fitness with high-energy classes such as bodycombat and body conditioning
build core strength and target major muscles with strength workouts in bodypump and barre
boost cardio endurance with feel-good moves to pumping playlists at Zumba and dance fitness
build your confidence in strength training with our learn to lift sessions
Focus on the mind and body with controlled movements at dynamic classes like yoga and pilates
Our experienced instructors are on hand to motivate, challenge and guide you, whatever your fitness level!
Play casually with friends
Want to just play sport with friends? You can make a casual booking for social sport across our facilities, and we'll provide equipment. From badminton to volleyball, you can book a variety of sports at a time that suits you best.
We also offer member guest fees of £4, so if you're a student but not a member, you can still play with your friends.
Play competitively
Join one of our student-led sports clubs and represent Team Newcastle at regional and national levels. Share our pride as one of the Top 10 in the British Universities and Colleges Sport league (BUCS).
You might want to try Intramural Sport, a programme of weekly participation sports, open to all abilities. Whether you already love a sport or want to discover something new, we offer a wide range of leagues, cup competitions and tournaments. We also offer coached sessions for those looking to develop their game.
Give It A Go
Try a new sport with our range of discounted and free taster sessions. We also offer social sports activities available through the Give It A Go activities programme. This programme is a great opportunity to check out a new physical activity while meeting new people and keeping active. It's open to all abilities with no membership required.
Free health checks
Want to put your physical health and wellbeing first, but don't know where to start? Book a free health check!
You can get a 20-minute appointment, which will involve clinical readings from a trainee clinician (Newcastle University FMS student) to assess your:
height
weight
blood glucose
cholesterol
blood pressure
mood and general wellbeing
From your readings, we'll give you advice and guidance about healthy lifestyle choices and you can ask questions.
Health & Wellbeing Hub
Visit our Health and Wellbeing Hub to support your sport, health and fitness goals. We have a range of services available to help you feel your best.
We also provide useful information, tips and guidance to support your health and fitness goals. This covers everything from nutrition and recovery to supplements, alcohol and drugs.
Students from a range of academic courses, such as Sport & Exercise Science, Dentistry and Pharmacy, create this content. It's all proofed by their academics for accuracy.
Future initiatives
Please continue to check back as we expand our sport and active wellbeing offer and introduce further initiatives in the future.