Postgraduate Support
We know that postgraduate degrees can be very different to your experience as an undergraduate. We're here to support your adjustment.
Our support
We support all our postgraduate students adjusting to their new degree.
We've collaborated with Newcastle University Students' Union (NUSU) on this page to share the resources we offer to our postgraduate students.
We offer most of these free resources to all postgraduates. Some, such as staff-student networks, are tailored to postgraduate research students.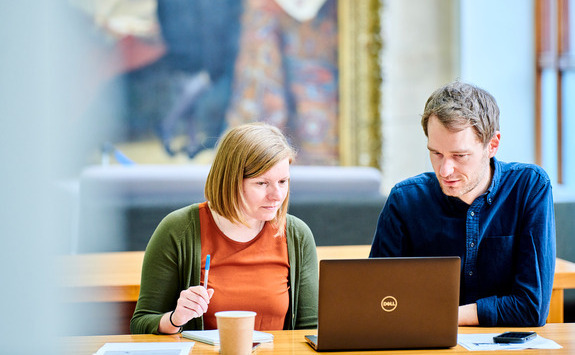 Postgraduate 24/7 advice line
You can call our free, confidential advice line anytime - it's available 24/7 to postgraduate students.
With our advice line, you can talk to professionals and receive advice on a range of concerns, including:
​​​​​​​​​stress and anxiety
work advice​​
family issues
relationship advice
childcare support
financial and legal information ​​
alcohol, drugs and gambling issues
medical information
bereavement and grief
consumer issues ​
Call 0800 030 5182 to access our advice line over the phone.
Alternatively, you can access support resources online via our partnership with Health Assured.
Sign in using the following details:
Username: Newcastle
Password: University
The benefits of our advice line:
​immediate support from a trained professional registered with the British Association for Counselling and Psychotherapy (BACP)
online portal and health hub that gives you access to articles, leaflets, webinars and wellbeing programmes
NUSU Postgraduate Officer
The Newcastle University Students' Union (NUSU) have a Postgraduate Sabbatical Officer, who can assist you in finding support, both in person or online. The Postgraduate Officer works as a student representative for all postgraduate students and can help raise issues to different departments within the Students' Union and university. They can't take on individual casework, but they can direct you to the right support services and give you contact information.
You can contact the PG Officer by email on pg.union@newcastle.ac.uk, or you can connect with them on social media. Find out more on the PG Sabbatical Officer page. Your PG Officer will be more than happy to listen to you and try to help support you.
Your PG Officer runs events, activities and drop-ins every month, such as PG Coffee Morning and PG Games Night. You can find out more on the NUSU events calendar.
You can also get more information about funding, study resource, wellbeing support and read useful blogs at the the NUSU PG Hub.
Student Advice Centre
Newcastle University Students' Union runs the Student Advice Centre. All students, including postgraduates, can receive specialist advice in the following areas:
academic
financial
housing
personal
employment issues
You can choose an in-person, online or telephone appointment - whatever you prefer. The Student Advice Centre is independent from the university.