Plan Your Visit
How to find and contact us, reading room opening times and what to do before you arrive.
COVID-19 notice
As part of the University's response to coronavirus, the Special Collections Reading Room will be closed to all researchers from Tuesday 17th March until further notice. Customers will be unable to request material during this period. The Special Collections team will still be responding to all enquiries via email and you can contact us at libraryhelp@ncl.ac.uk.
Before you visit
Our collections are open to everyone to consult in our reading room (currently closed due to the current COVID-19 situation).
Please see our Library Help topics below for information about what you need to do before visiting, what you will need to bring with you and our document and book handling guidelines.
Please note that all items must be ordered in advance. See our step-by-step guide below to requesting an item before planning your visit.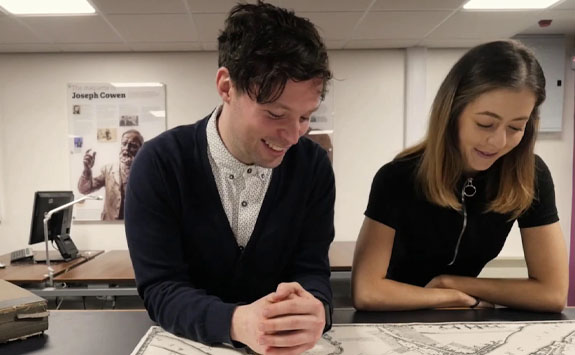 How to find and contact us
The Special Collections reading room is on Level 1 of the , Jesmond Road West, Newcastle University, Newcastle upon Tyne, NE2 4HQ
Email: libraryhelp@ncl.ac.uk
Telephone: +44 (0) 191 208 7712
When you arrive
You will need to sign in and show either your University ID card or, if you are not a member of the library, another form of photo ID.
There will always be a member of staff on duty to retrieve your item(s) and to help you with any queries you may have.
Related topics in Library Help