Databases, Journals and Reading Lists
Locate key journal and databases. Find essential and recommended resources on your module reading lists.
The Library provides access to a wide range of e-books, e-journals and databases. These can all be accessed on and away from campus, via Library Search using your University username and password.
Databases
Databases for different subjects and information types can be found in Library Search, on your Subject Guide and in Resource Guides.
Library Search allows you to find a database by name (e.g. JSTOR, Medline or Scopus) or search more broadly by subject. Your Subject Guide highlights the best databases and specialist resources to use for your subject, while Resource Guides point to key databases for information types, including newspapers, company information, scientific data and more.
Use the search box to access a specific database
Searching for a database and accessing it via Library Search will ensure you are taken to the correct University login page. This will provide immediate access to the full resource, especially when you are working remotely.
E-journals
Find both journal titles and individual journal articles using Library Search.
Use Library Search's Everything search to find journal articles by inputting topic or article keywords. Apply filters to display articles only and limit to peer reviewed, open access or full-text options.
Use Library Search's Everything except articles search to find journal titles. After performing your search, use filters to restrict results to show only journals with full-text online.
Explore e-journals in your subject area using BrowZine, or browse A-Z for titles. Add key journals for your discipline to your own bookshelf and download the BrowZine app to keep up to date with new journal issues.
E-books
Search across our collection of half a million e-Books, from a wide range of publishers and platforms, using Library Search. Access specific titles or search by topic keywords to explore subject related resources.
Filter results by full-text online and log in using your University username and password to access titles available electronically.
Reading lists
Your reading lists provide you with easy access to books, e-books, e-journals and anything else your module leader recommends. These online lists are clearly labelled so you can quickly make decisions about what you want to read.
How to access your online reading list
When you log into Canvas you will see your module reading list in your course menu. If you're having problems accessing your reading list through Canvas, you can find it via the Reading Lists search page.
Using your reading list
Search for a particular reading using keywords in the search icon at the top of the page.
Use the filter icon to filter your reading list by tag (essential, recommended or background) or by type of resource (e.g. article, book, etc).
Export your reading list into formats such as Word, PDF and EndNote. Click the menu (three vertical dots) for options.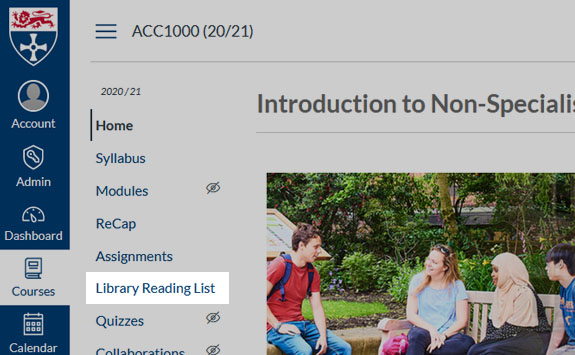 Sorry, you need JavaScript to view this video