Visit us in Person
How to book an in person appointment to view requested material in our on-site reading room, reading room opening times, how to find and contact us and what to do before you arrive.
Through our in-person consultation service, you can book an appointment to consult Special Collections material on-site in our Reading Room.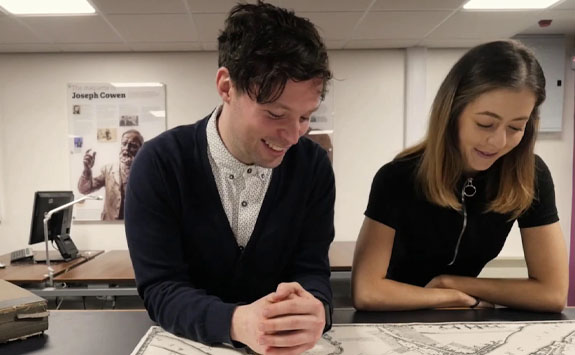 How to book an appointment
Step one: find an archive collection item or rare book
Before booking an in-person appointment, you will need to know the details of the archive collection item(s) or a rare book(s) you would like to view:
Step Two: order your item
When you find an item(s) in one of our collections, complete either a request form for a book or for material from an archive. For more details see below:
Request a book
Books are described within Library Search and can be ordered directly from the catalogue.

If you would like to request a book, please visit Library Search (see below) and search for the item you are interested in.

Once located, you can order books directly from the catalogue. Visit Library Search below:
Request material from an archive
An archive collection can cover several boxes of material, or be individual documents.
If you would like to request material from an archive, please browse our Collection Guides.
Once located, you can browse the catalogue by selecting 'Contents of this collection' (on the right hand side).
Make a list of the item/s you would like to view. Then, select the relevant item from the 'Content of this collection' list.
Click the 'Request this item' button to add to a list of items to be requested. You can do this multiple times if there is more than one item you would like to request.
Go to the 'My Items' icon in the top right hand corner and click on 'Request all items'.
Follow the instructions to complete and submit an archival Special Collections request.
After requesting an item/s:
we will retrieve the material from our store
once your material has been retrieved, we will contact you to confirm the date(s) and time(s) of your slot(s), and let you know what you need to do when you visit. Please read your confirmation email carefully, which will let you know where to go and what you need to bring. If the date or time you have requested is unavailable, or there is a problem in retrieving your material, we will contact you to discuss alternatives.
Please see our Library Help topics below for information about what you will need to bring with you, and our document and book handling guidelines.
When you arrive
If you are unable to make your arranged slot, please email libraryhelp@ncl.ac.uk or telephone: +44 (0) 191 208 7712 as soon as possible. If you are late to your slot we may not be able to accommodate your visit.
How to find and contact us
The Special Collections reading room is on Level 1 of the Philip Robinson Library, Jesmond Road West, Newcastle University, Newcastle upon Tyne, NE2 4HQ
Email: libraryhelp@ncl.ac.uk
Telephone: +44 (0) 191 208 7712
Related topics in Library Help