How We Support Students
Bookable group sessions and individual support to help students develop their information and academic literacies and study skills, including quick question express and one-to-one tutorials.
Teams within the Library can help students understand the expectations of university teaching, learning and assessment, develop their study strategies and fulfil their academic potential.
The Liaison Librarians and the Academic Skills Team offer individual and group opportunities covering a range of academic skills including:
Academic and research skills - critical thinking, revision and exam technique, time management, reading and note-taking,

planning and structuring your work

​​
Assessment and feedback - understanding your assignment brief, interpreting essay questions, marking criteria

and expectations, using feedback to improve

​Academic writing - academic language and style, finding your voice, the writing process from first draft to final

edit.

Finding, evaluating and managing information (search planning, literature searching, using archives and special collections, referencing, using information critically)
I had received some bad feedback and was feeling pretty demotivated but the tutor was helpful, he really provided me with some great skills to tackle my essay
It's very easy to book appointments and I like how personalised it is. At uni you rarely get one to one time so this was extremely helpful and confidence boosting.
Great comfort in knowing there are helpful resources out there. Previously was feeling very overwhelmed.
I really enjoyed the session and the presenters were really nice, friendly and professional.
Your Skills programme
Your Skills is an open programme that offers a range of workshops on all aspects of academic and study skills to compliment and supplement teaching embedded within the curriculum. The programme is co-taught and developed by colleagues from across the Liaison, Academic Skills and Special Collections and Archives Teams to give a holistic and wide-ranging series of workshops and resources. From assignment planning to feedback, searching for information to referencing, we have sessions running throughout the year, with in-person and synchronous online options, allowing students to develop their skills in a way that suits them. Designed to stretch and challenge as well as support, these sessions support academic assessment and progression, including workshops focused on the skills needed to progress between different levels of study.​
Explore bookable group sessions available to highlight for your students and tutees. You can also subscribe to the events calendar so that you receive updates on upcoming sessions throughout the year.
One-to-one support
Library Liaison Team
We offer one-to-one consultancies with the Library Liaison Team, to support students with all aspects of their information and digital skills relating to their studies, including planning an information search, developing a systematic review search strategy, accessing specialist subject resources, guidance on managing information and keeping up to date.
The one-to-one appointments are particularly valued by students undertaking independent research for a dissertation, research project or thesis. The consultancies are available for students at all levels of study from undergraduate to postgraduate research students, and are offered in person and online.
Academic Skills Team
The Academic Skills Team can offer tailored and detailed advice on a one-to-one basis on the broader academic and research skills, preparing for assessment and academic writing. We provide bookable appointments allowing students to meet with us in person or online.
Students can also come to a drop-in sessions, which are designed to give more flexible access to the team without the need to book an appointment across Newcastle Campus.
Search Planner
If students are working on a dissertation or research project, our Search Planner tool can guide them through gathering their ideas about the types of information they need to find and which information resources are available from the Library and beyond to support their research.
Students have the option to send their Search Planner to the Liaison Team, who can offer feedback on the search terms and suggest relevant resources to be used for that topic. The Search Planner can also be shared with you as a supervisor and downloaded to be used as a discussion document as students refine their topic and search strategy.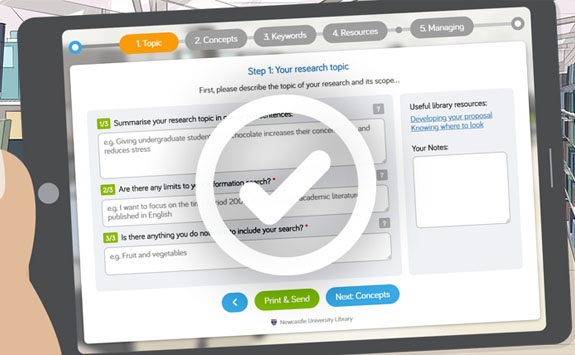 Related topics in Library Help
Related help topics