Reading Lists for Academic Staff
Create and edit your module reading lists.
New features and changes to Reading Lists in Canvas
An update in September 2022 brings a minor navigation change but also some exciting new features.
How to access your reading list
all reading lists are best accessed via Canvas
once logged in, you should see a list of courses on which you are listed as an owner
within each course, click on the Library Reading List menu option on the left hand side
if a list already exists for this module it will be displayed; if not you will be able to create one
once within the reading lists system, the menu option will show you all of the other lists for which you are also a module owner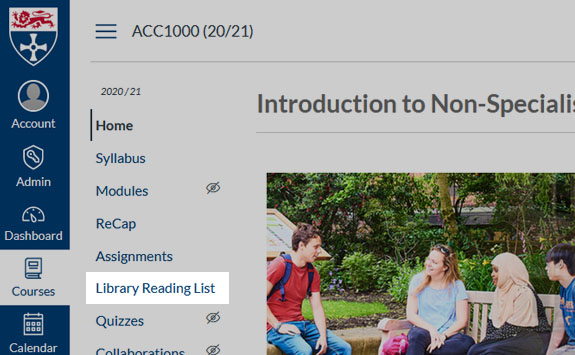 Do I need to send my list to the Library?
You should send your reading list to the Library or contact the reading lists team whenever you have:
created a brand new reading list for a new module
added items to your list
inherited the module from another academic and have changed the reading list
noticed an increase in the number of expected students and are worried about stock levels
noticed some broken links on your list and would like the citations checked
Option 1 – Input your own list on the online reading lists system
access your reading list via Canvas
add resources from Library Search and other sources using appropriate tagging against each item. Refer to ordering of items section below
publish and send your list to the Library for checking and stock ordering
we will only contact you if there are any problems
Option 2 – Send your list to the Library for inputting
Alternatively, you may wish to produce your reading list in a Word document or module handbook and would like the Library to create your online version.
On your reading list please include:
a full list of items featuring relevant bibliographic details
items labelled using essential, recommended and background
indication of which citations (include chapter or page numbers) you would like scanned
any relevant notes e.g. if you are using a specific edition (otherwise we'll opt for the most recent publication) or if you think items should be transferred to the Short Loan collection
the Library will contact you when your list is published, or if there are any problems
Sorry, you need JavaScript to view this video
Making changes and edits to your reading list
If you choose to manage your own lists online, you can easily add and edit items on your reading lists. When you create a new list, don't forget to send it to the Library on completion.
Alternatively, you can send your amendments as an attachment to the Library using the reading list submission form.
After submitting: Library checks a reading list and availability of resources
When the books are available in the Library, you will not receive any emails unless there is a problem with the order.
When CLA scans (book chapters or journal articles) have been completed, the Library will add the link to the scan on your online reading list. You will not receive any emails unless we are unable to provide your scan.
Expected student numbers and the tags assigned (essential, recommended and background) to each citation help the Library to check if sufficient numbers of copies are held. Extra copies will be ordered if necessary as well as checking for new editions. Items may also be moved to the Short Loan collection where needed.
You will receive an email from the Library once your list is available online.
Ordering of items: essential, recommended and background
When submitting your reading list each item should have a tag applied to it. Tags will help students and the library understand the importance of the item as well as allowing decisions to be made about the number of copies available.
essential reading – very important to the course, all students will need to use this text
recommended reading – supplementary texts which students are encouraged to use
background reading – additional texts which are suggested for background subject area reading
SAgE and HASS Faculty modules
essential and recommended reading – book/student ratio for printed stock:

SAgE - 1:5
HASS - 1:10 to 1:50
Law – 1:25

background reading – one copy will be ordered for long loan
for all readings, we will choose e-books where possible
FMS Faculty modules
essential and recommended reading – 1:8 book/student ratio for printed stock
background reading – at least two copies will be ordered for long loan
for all readings, we will choose e-books where possible
Support, guidelines and best practice
Enrol yourself on our Reading Lists Training for Staff course in Canvas, which takes you through everything you need to know about creating, editing and managing your own reading lists.
Visit our new Reading List Toolkit, which is packed with useful tips and resources to help you review and improve the accessibility, structure and diversity of your reading lists, and encourage better student engagement.
For any general reading lists queries please email readinglists@ncl.ac.uk.
If you need to discuss resources for your reading list in terms of new subject areas, or book/journal/database provision, then please contact your Liaison Librarian.
Related topics in Library Help