Wellbeing Initiatives
Current Wellbeing Initiatives
Student Health and Wellbeing Services are committed to exploring new avenues in which our students' wellbeing can be nurtured and enhanced. Our current and ongoing wellbeing initiatives can be found below:
Pianos on Campus
The act of playing/listening to a musical instrument can help us savour a moment of 'time out' in the midst of a busy day, and not only for the benefit of the performer. Many of our staff and students do not have easy access to a piano whilst they are on Campus and this is something we recognise. Therefore, and as an early launch of this initiative, across the University you will find 'Pianos on Campus' which follow the St Pancras model of being in communal places for everyone to play whatever their musical ability. You will currently find them housed in:
The Student Union; Luthers Bar.
The Student Union; First Floor Recreation Space
The Frederic Douglas Building; Exhibition Space
Dental School; Student Common Room
with more places to follow, and you check where they will be on your Newcastle University App
Each of these pianos has the following sign letting you know that...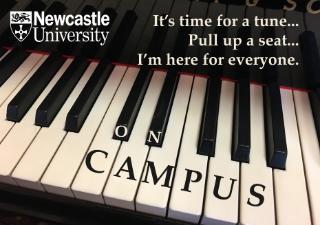 Meditation and Mindfulness
We provide regular guided Meditation sessions at Newcastle University. The sessions are led by the Honorary Buddhist Chaplain, Chris Earle-Storey and more information regarding the time and location of the sessions can be found here.
These sessions are open to all students and staff at the University.
Borrow Bessie
Bessie is on leave right now, so is not taking walks for a few weeks. Please do check back in early October 2022.
The 'Borrow Bessie' scheme is one of a number of initiatives provided by Newcastle University to help students and staff improve their mental and physical health. Bessie is available for students and staff throughout the day for walks or just for company.
Sally Ingram, Director of Student Health and Wellbeing and the owner of Bessie mentions: "Research has shown that time spent with animals can alleviate worry, provide comfort and help people deal with feelings of isolation and loneliness – all issues that students can sometimes struggle with. Combining this with fresh air and physical exercise is a good recipe for positive physical and mental wellbeing".
You can now book in with Bessie using the 'Book here' button below, or by visiting this page. At the moment, we release bookings only a few weeks in advance, so please do keep an eye out for new availability (usually released every Friday). She can only take 2 walks every day, and is generally on Campus Monday - Thursday each week.