Engage FMS
Supporting patients and members of the public to become involved in research.
Events
Research and Innovation Matters
Our flagship programme developed by the faculty of medical sciences engagement team. It aims to highlight areas of research excellence to people outside of the University. It gathers insights from the public to help focus health research on unmet needs and priorities.
The series runs throughout the year focusing on specific topics. These events have a focus on involvement and engagement. Talks and workshops gather insights from the public to direct the future direction of research.
Scheduled topics for 2020 include:
unequal ageing: responding to health inequalities in later life
the gift of life: the current and future status of organ transplantation
Faculty film festival
We want to use the creative arts as a medium to help engage the public with medical science research. We host free films, with panel discussions following screenings.
The festival uses well known films to encourage people to think about health sciences in a different way. Hosted every other month, films in the 2020 series include:
I, Daniel Blake
Never Let Me Go
Robot and Frank
Beginners
Still Alice
Soapbox Science
We host an annual Soapbox Science event in June each year. This international science engagement initiative aims to:
allow people to engage with science in unexpected places
promote the visibility of women scientists.
Soapbox science events are similar to the established Speaker's Corner in London's Hyde Park. Women scientists stand on soapboxes in public spaces and speak about their work.
Many presenters find it liberating to share their work outside of a traditional setting and to engage with a different audience.
Find out more about Soapbox Science in Newcastle.
Alzheimer's Research UK
Newcastle is an Alzheimer's Research UK Network Centre. Together with Alzheimer's Research UK we organise an annual information day. This is our chance to share our latest research with the general public.
The 2019 event took place on Tuesday 14 May at Newcastle Civic Centre. Presentations from the 2019 event include:
Turning discoveries into breakthroughs for dementia.

Dr Katy Stubbs, Alzheimer's Research UK (2.9MB:PDF)

How can we model dementia in the lab?

Dr David Koss, Newcastle University (3MB:PDF)

What can walking tell us about dementia?

Dr Riona McArdle, Newcastle University (2MB:PDF)

How we use human brain tissue in the fight against dementia.

Dr Lauren Walker, Newcastle University (2MB:PDF)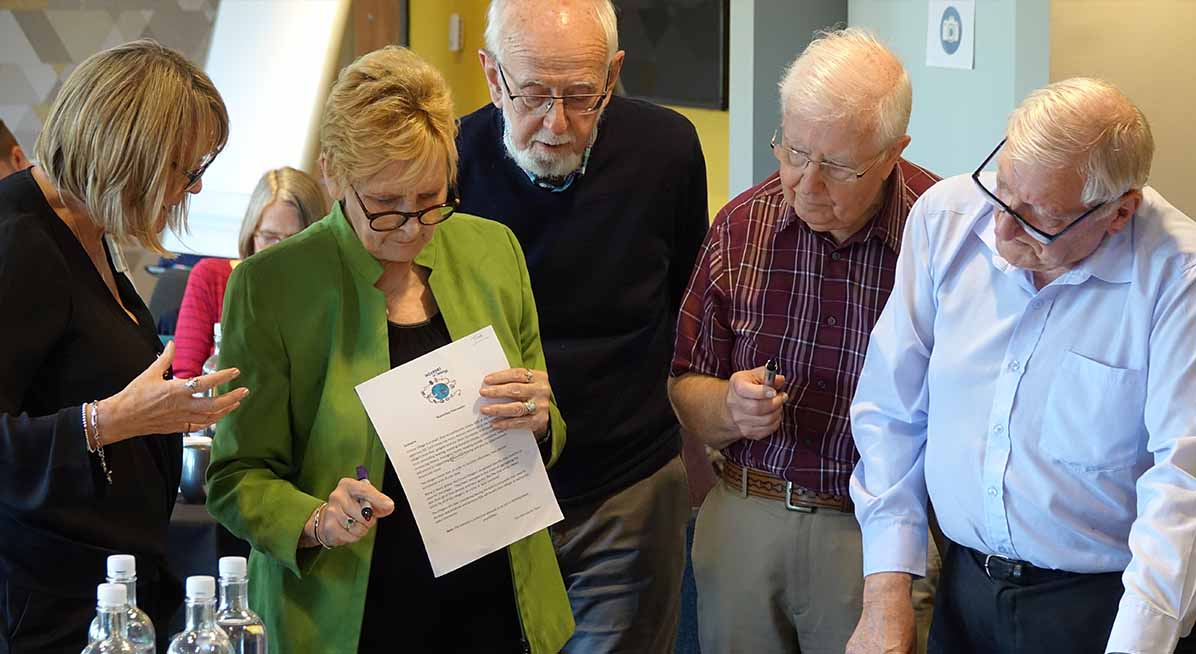 Support for researchers
Drop in
Members of the Faculty can receive guidance on involvment and engagement. You can book a one to one slot with:
Charlie Wilkinson, Engagement Support Coordinator
Kasia Kurowska, Public and Patient Engagement and Involvement Manager
These take place on the last Wednesday of each month in the medical school's Ridley atrium 12.00-13.30.
Contact fms.engagement@newcastle.ac.uk to book a slot.
Presentation
If you would like to learn more about our opportunities EngageFMS can provide a tailored to talk to units or groups of staff. Contact fms.engagement@newcastle.ac.uk to arrange.
Funding
FMSEngage have regular funding calls to support work in involvement and engagement. If you have an idea you would like to discuss please contact the team fms.engagement@newcastle.ac.uk.