Engage FMS
Supporting patients and members of the public to become involved in research.
Importance of Engagement
The faculty has a team supporting researchers to do patient and public involvement and engagement (PPIE). There is a range of training, support and engagement opportunities for researchers.
To stay updated with engagement news make sure to follow @EngageFMS on twitter.
In this video, Lizah Van Der Aart, a research associate from our Faculty talks about her experience of public engagement.
Events
The Faculty engagement team manage a diverse programme of engagement events. These events provide opportunities for FMS researchers to engage with members of the public.
Research and Innovations Matters
Our flagship programme developed by the faculty of medical sciences engagement team. It aims to highlight areas of research excellence to people outside of the University. It gathers insights from the public to help focus health research on unmet needs and priorities.
The series runs throughout the year focusing on specific topics. These events have a focus on involvement and engagement. Talks and workshops gather insights from the public to direct the future direction of research.
You can watch Andrew Kingston's talk from the Research matters event on unequal Ageing on the Voice youtube channel.
EngageFMS film screenings
We want to use the creative arts as a medium to help engage the public with medical science research. We host free films, with panel discussions following screenings.
The festival uses well known films to encourage people to think about health sciences in a different way. Previous screenings have shown films such as: Algorithms, Inside Out and Still Alice.
The latest film was Pride at the Star and Shadow on 20 July. Based on a true story, the film depicts a group of lesbian and gay activists who raised money to help families affected by the British miners' strike in 1984. The post film panel included discussions on gender and identity, the place of trade unions in todays workplace and current treatments for HIV and AIDs.
Soapbox Science
We host an annual Soapbox Science event in June each year. This novel public outreach platform promotes women scientists and the science they do. Events are similar to the established Speaker's Corner in London's Hyde Park. Women scientists stand on soapboxes in public spaces and speak about their work. This international science engagement initiative aims to:
allow people to engage with science in unexpected places
promote the visibility of women scientists.
liberate speakers to share their work outside of a traditional setting and engage with a different audience.
Find out more about Soapbox Science in Newcastle.
Alzheimer's Research UK
Newcastle is an Alzheimer's Research UK Network Centre. Together with Alzheimer's Research UK we organise an annual information day. This is our chance to share our latest research with the general public. The 2019 event took place at Newcastle Civic Centre with over 100 people attending. Unfortunately due to physical distancing it was not possible to hold a 2020 event. For more details please contact Sally Warburton.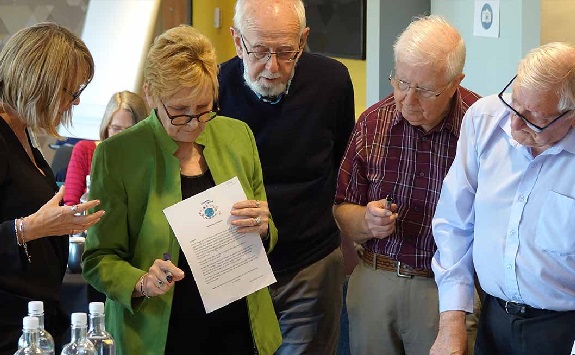 Training and support
The faculty has a full training and support programme for involvement and engagement.
Engagement showcase
The engagement showcase is a monthly seminar spotlighting great case studies. Each month we highlight a PPIE project from the faculty to showcase our fantastic staff and inspire others to do their own innovative work. Sessions cover a variety of topics such as the INCLUDE project that focuses on involving more diverse populations in clinical trials. The work of our academic health science centre, Newcastle Health Innovation Partners and how to use creative arts to engage.
Newcastle University staff and students can use the link below to access our internal pages and book a place. Alternatively please email fms.engagement@newcastle.ac.uk for more information.
Researcher drop in sessions
Each month the FMS engagement team provide a support drop in for PPIE. You can book a 30-minute slot for personal one to one advice and guidance on your PPIE. The engagement team provide advice, resources and guidance to support your work. Get in touch with EngageFMS to book a slot.
Training workshops
The faculty works with many public engagement freelancers to provide sessions on PPIE. In 2021 we have sessions from a number of external engagement specialists, the VOICE team and more. You can find details about the training on offer on our internal pages or get in touch.
Toolkits
The Engagement team have developed introductory toolkits for involvement and engagement. These tackle frequently asked questions and provide basic information to get you started.
You get one on one support and can talk through all of your concerns and queries. The team were very positive and knowledgeable - we had some very useful discussion and they provided contacts and suggestions for help with developing our project.
Contact us
Get in touch to find out how EngageFMS can support and enhance your project. We would like to hear from you if you have an early stage idea that you would like help to develop. We can provide advice on funding opportunities. We would like to hear from you if you have an idea for a training session. You can contact us to book a drop in session or simply to talk about engagement.
Email us at fms.engagement@newcastle.ac.uk.
Newcastle staff and students can access training resources and book training sessions on our internal pages using the link below. Please note you will be asked to login with your University credentials to access internal pages.