Dr Katarzyna Mickiewicz
Dr Mickiewicz joined Newcastle as a Research Associate and moved into a Faculty Fellow post in 2019. She now holds a prestigious UKRI Future Leaders Fellowship.
Read more about her work and why she chose Newcastle as the starting point for her independent research career.
Why did you choose to join FMS and what keeps you here?
FMS is home to a critical mass of specialists focusing on various aspects of human health and disease. This includes a cohort of prominent microbiologists and immunologists, who provide a supportive and constructive environment for my professional development and for my project to thrive. Cutting-edge facilities, including an excellent microscopy base, are essential for my success.
What part did your faculty fellowship play in your career to date?
The faculty fellowship allowed me to take a step towards an independent research career and gave me time to secure external funding.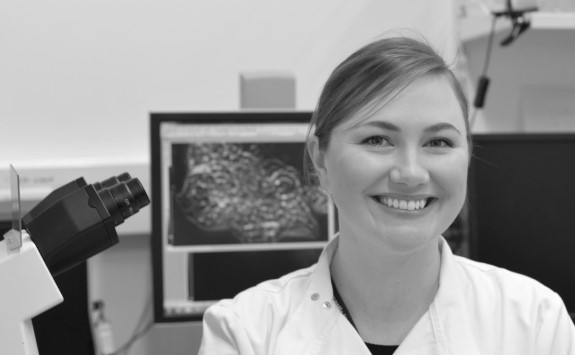 What are your short term and long-term ambitions?
I developed an ambitious research program focusing on an understudied mechanism of antibiotic evasion, referred to as L-form switching. The mechanism is thought to be involved in the recurrence of several infectious diseases, including urinary tract infections, sepsis, gastrointestinal conditions and mastitis. I secured a UKRI Future Leaders Fellowship, which over the next few years, will allow me to study what genetic factors are involved in L-form switching, how host environment influences survival of L-form bacteria and develop potential treatments. My long-term ambition is to become a world leader in the antimicrobial resistance (AMR) field, focusing on understanding various strategies bacteria adapt in order to escape antibiotic action. AMR currently kills over 1.2 million people a year globally, and this number is predicted to rise to 10 million by 2050 if no action is taken. My research contributes towards addressing this challenge.
What difference has your research made so far?
I have developed novel approaches to determine the role of L-forms in recurrent infection. Using advanced fluorescence microscopy combined with in vivo models and patient samples, I have shown that L-forms, paradoxically, are able to survive inside immune cells and that they exist in patients with recurrent urinary tract infections. My work highlighted the need to study L-form switching as an important strategy of antibiotic evasion. Following on from these significant discoveries, further work is urgently needed to answer the many questions about L-forms that remain.