Undergraduate Food and Land Management Degrees
We give you expertise and experience in managing in the food, land, and agriculture sectors.
Our food and land management degrees prepare you for managerial positions in food and agriculture businesses. They give you access to careers looking after rural landscapes.
We deliver graduates who are highly employable. Many have progressed to fantastic careers with many household names.
Our food and land management degrees are interdisciplinary. We offer a wide variety of optional modules and strengths in areas such as:
business
economics
marketing
accounting
law
conservation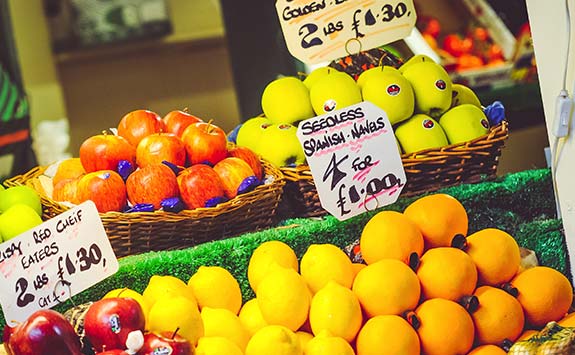 Teaching excellence
Our Agri-Business/Food Business Management degrees put you in charge.
You get real-world experience of managing all aspects of a business. That's from new product development to food markets and consumer behaviour.
We offer work placement options at top firms. It means you'll have all the business acumen you need when you graduate. Find your way to the top of the food chain.
Our Rural Studies and Countryside Management degrees help you into careers in:
rural development and enterprise
biodiversity and conservation
rural tourism and culture
government policy in rural areas
environmental management
Our research into the driving forces in rural economies is celebrated. It's used by policymakers globally.
Quality and ranking
In The Complete University Guide 2019, we rank:
3rd in the UK for Agriculture and Forestry
10th in the UK for Marketing
8th in the UK for Food Science
Careers in agri-business/food business management
Our graduates are perfect for the food and retailing sector. Recent graduates have joined prestigious national and multinational companies, such as:
Marks and Spencer
Cargill
Tesco
Nestle
Savills
Morrisons
You'll be able to work in food science, retail management, food production, and distribution. You'll have skills enabling you to work in marketing and human resources.
Careers in Sustainable Land and Business Managemen
Our graduates find employment in land-based and environmental careers. These include positions in:
national park authorities
chartered surveying
rights-of-way management
conservation teams for charities and pressure groups
UK wildlife organisations
Our graduates work for the European Parliament, Met Office, National Trust, and Oxfam.
Additionally, government organisations and private firms provide openings for agricultural or environmental advisers.
Excellent facilities
Our facilities include:
a field station which has a glasshouse complex and dedicated teaching facilities
modern teaching and research laboratories
a purpose-built Clinical Research Facility in the Royal Victoria Infirmary teaching hospital
a newly-refurbished NU-Food and Consumer Research Facility
NU Farms
NU Farms is a research, teaching, and engagement platform based across our two sites. Run commercially, they comprise:
more than 800 hectares of farmland
a dairy herd and pig unit
organic research unit
arable and combinable crops
anaerobic digester
Cockle Park is a University-owned 307-hectare mixed farm 18 miles north of Newcastle.
Nafferton Farm‌ is a 498-hectare farm located 12 miles west of Newcastle. It's rented from the Allendale Estate on a 999-year lease that started in 1944.