Undergraduate Chemistry Degrees
Chemistry at Newcastle is a dynamic and exciting place to start your science career.
Our taught undergraduate courses reflect the diverse applications of modern chemistry in context of societal and global challenges. They are informed by the research experience of our staff and professionally accredited by the Royal Society of Chemistry.
All our graduates emerge with a depth of subject knowledge and the ability to work across disciplines. Students can specialise while they progress, through optional modules in early years of study, selection of a "with medicinal chemistry" degree or their choice of an undergraduate research project in an area of interest. Preparation for employment and transferrable skills training are integrated into all Chemistry degree programmes.
Join our vibrant, diverse and supportive community with an international network of partners and alumni that spans the globe. For more details, contact Dr Andrew Pike (Admissions Tutor) or Dr Nick Walker (Degree Programme Director) to find the best chemistry degree for you.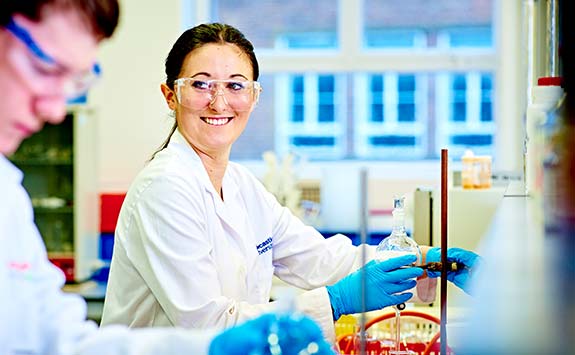 Help create a sustainable and healthy future
You'll enjoy research-led teaching from a Russell Group institution. Our staff have proven research expertise which they exploit to inform our curriculum, energise our teaching and connect students with opportunities.
Our courses are designed to feed your curiosity and supply the practical skills needed for a successful career in chemistry. We encourage independent learning while providing structured staff support and an excellent teaching and learning environment.
We offer you:
Small group teaching tutorials: These provide you with the opportunity to discuss and apply the concepts and new ideas that are presented in lecture and laboratory classes.

Laboratory skills teaching: You will be taught the practical skills used by professional chemists. You will gain hands-on experience of a wide range of laboratory methods, chemical reagents and solvents. You will become familiar with apparatus and highly-advanced instruments that are typical of those used in professional environments.

Research projects: During their fourth year, MChem students are invited to join an active research group within the School to contribute to projects that are at the cutting-edge of chemistry.

Personal tutors: You will be assigned a personal tutor who will guide your studies, help you to select modules that match your interests, and serve as a bridge to opportunities and further support.

Support for placements: You will have the opportunity to apply for a placement (study abroad or industry employment) which you would complete during the third year of your studies. Placements are supported through extensive professional awareness training and staff mentoring support.
Our academics' specialisms are across inorganic, organic, physical, biological, and computational chemistry. They give you access to diverse fields of study, including:
discovery of new anti-cancer drugs
development of battery technology
nanoscience and nanoscale electronics
structural analysis
photovoltaics and organic light-emitting diodes
data science and machine learning