Equality, Diversity and Inclusion
We're committed to ensuring we're a welcoming, inclusive and supportive School. We're dedicated to promoting this culture for all staff, students and visitors.
The School of Natural and Environmental Sciences is committed to promoting an inclusive culture in which students and staff from all backgrounds have a strong sense of belonging and can work creatively and innovatively to achieve their own and the School's ambitions.
At the heart of developing an inclusive School culture is a commitment to attracting, supporting, developing and retaining talented staff and students from the full breadth of society. We are a global, outward looking School with a clear desire to increase diversity across all research and taught programme areas.
Whilst we are proud of our Athena Swan Bronze status, as well as recent strides in diversifying our academic staff, we understand that there is far more work to be done to build on our recent advancements. This website contains a summary of our Values and Standards and some recommended EDI reading, as well as links to key EDI related organisations and groups within the wider Newcastle University community, and a summary of the School EDI Committee's members.
Use the Improving our School Report It Form to tell us of unacceptable behaviours. These include making someone feel uncomfortable, excluded or threatened based on a protected characteristic. If you would like a response, please include your email address.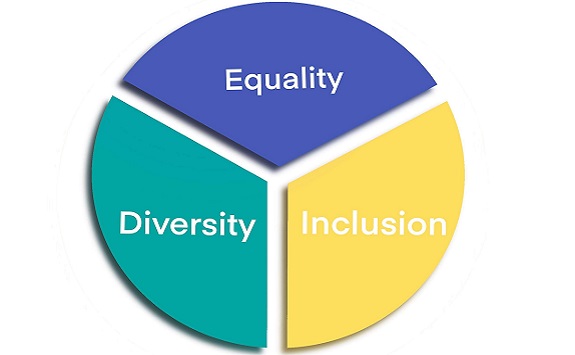 EDI Committee
The EDI Committee in SNES meets monthly to discuss and take action towards a better, more inclusive School.
Our members include:
Hannah Davis (Lecturer)
I am a lecturer in ruminant nutrition and pasture management. I previously worked for and am now a Trustee of the Bill Quay Community Farming Association, which provides free access to rural experiences and farm animals just outside of the city centre. In both these capacities, I can exercise my affinity for animals while fostering educational experiences in agriculture. As a member of the queer community, I understand personally why both inclusive language and actions are necessary to create a university community that is accessible to everyone. I also sit on the steering group for the Rainbow Network and am a member of the NU Women network. Outside of work I enjoy running and pizza!
Katy Sawyer (Events and Communications Administrator)
As Events Administrator for SNES I support the delivery of events across the School, including the development of EDI events in line with the yearly EDI calendar. I also coordinate internal and some external comms for SNES, including weekly newsletter, social media and web pages. I am a member of the NU Women and Rainbow networks and secretary for the SNES EDI Committee. I am a fervent environmentalist, feminist and advocate for inclusivity for everyone. Outside of work I volunteer for the Wildfowl and Wetlands Trust, the RSPB, am a Green Party candidate and enjoy nature, food and hanging out with my cats.
Adam Thompson (SAgE People Services Team Leader)
Support the delivery of the University's People Strategy by working alongside and supervising a team of People Services Administrators who provide first-line advice and administration regarding People Services processes and procedures for the SAgE Faculty. I was invited by the SNES EDI Committee Chair to join the newly formed School EDI committee in November 2017 in my capacity of a representative of the People Services (formerly Human Resources) section in the School. As a cis male (male assigned male at birth) I was, and still am a minority in People Services (Administrative A-E). Everyone should have a right to equal access to employment and, when employed, should have equal pay and equal access to training and development. I believe it is the duty of the SAgE People Services team to continually engage with School / Unit Management and Hiring Managers to foster a working environment where all colleagues feel valued, this in turn helps inform the recruitment strategy to make Newcastle University attractive to a more diverse pool of potential future colleagues and leaders. In my role I am able to support with providing guidance on People Services policy and procedure, and as a direct result of the discussion and efforts of the SNES EDI committee, we have been able to influence and facilitate real changes to People Services processes and procedures.
Sharron Kuznesof (Senior Lecturer in the Applied Social Sciences Group & Director of Equality, Diversity and Inclusion, SAgE Faculty)
As Director of EDI in the Faculty of Science, Agriculture and Engineering I lead the Faculty EDI strategy and support the University's EDI strategy. I'm a member of the University EDI Committee, Institutional Athena Swan Self-Assessment Team, the Race Equality Charter (REC) Self-Assessment Team and REC Student Working Group, the Changing the Culture Working Group and I'm supporting the Access and Participation Plan commitments including those relating to British undergraduate awarding gaps. As a member of SNES' EDI Committee, I'm keen to support initiatives that promote an open, inclusive environment which is free from bias, prejudice and discrimination, where staff and students are valued and respected and have opportunities to succeed. EDI provides a powerful mandate for positive change and I look forward to helping SNES achieve a teaching and research environment where colleagues and students have a sense of belonging and can flourish.
Justina Heslop (Research Project Manager)
As a Research Project Manager I work on a number of projects most notable I project managed the North East Centre for Energy Materials (NECEM) I currently support engagement activities for the Interdisciplinary Centre for Circular Chemical Economy and support events and management for the International Network on Polyoxometalate Science for Advanced Functional Energy Materials (INPOMS). I have recently started working with The National Centre for Energy Systems Integration (CESI). I'm passionate about creating an environment in the teams I work in where everyone feels welcome and valued. I have two young daughters who are mixed race (proudly Geordie-Ethiopian) and I want them to live in a world where diversity is celebrated and respected.
Louise Mair (Research Associate)
Having been a post-doctoral researcher at Newcastle University for four years, I am starting a new position as a NUAcT Fellow in October 2021. In my research on species conservation, I have the privilege of working with a fantastic network of international collaborators. This has given me a great understanding of the benefits of a diverse and inclusive team, and I am keen to support a work environment that values EDI. I have been a member of the Rainbow Network steering group since its inception, and I am also a member of the NU Women network.
Adriana Humanes (Postdoctoral Research Associate at the Coralassist Lab)
Since I joined Newcastle University in 2017 I started getting familiarised with EDI, reading and understanding the importance of initiatives and their influence in the research culture. I am originally from Venezuela, where I lived for 30 years before moving overseas looking for greener pastures. During my journey I have lived in 4 countries and have experienced first-hand how opportunities and support at any level have a huge impact on the development of a researcher's career. I am interested in promoting multidimensional mentorship practices that will result in healthier mentee well-being and will facilitate a more inclusive research culture. I believe that these practices are key to generating a greater capacity for innovation, which is essential for addressing the challenges of the present and future, such as pandemics and climate change.
Clare Fearon (STEM Outreach Officer)
As an outreach officer in the SAgE faculty, I develop and deliver activities and events to engage young people with STEM subjects. We work with children from age 7-18 to inspire, raise aspirations and break down stereotypes. I am particularly interested in increasing diversity in STEM and I believe our outreach work has a large part to play in this. I am involved in lots of projects aimed towards women in STEM including our annual Girls in STEM event, 2021 Holmes Lectures and the Girls in STEM Club. I am also keen to support members of staff and students who have a desire to initiate or get involved in outreach projects.
Cristina Navarro Reguero (Lecturer)
I have been in the EDI committee since I joined Newcastle University in 2016. As a lecturer in Chemistry, Senior Tutor for all our undergraduate Chemistry programmes and peer mentor staff coordinator, I would like to contribute to make SNES a welcoming and inclusive place for everyone to work and study at. Having moved around the world several times I have actually experienced how important this is.
Abdul Chaudhry (Senior Lecturer)
Amy Roberts (Technician)
Beate Christgen (Research Associate)
Cynthia Olumba (PGR)
Helen Gray (Research Associate)
Isaline Castan (PGR)
Julius Olumeh (PGR)
Sanem Acikalin (Lecturer)
Zarah Pattison (Lecturer)
Tom Harding (School Manager)
Andrew Beard (DELT and Senior Lecturer)
Helen Kendall (Research Associate)
Lucy Asher (Professor)
Jane Delaney (Senior Lecturer)
Marina Freitag (NUAcT)
Values and Standards
Values
The principles that guide our actions in the workplace.
Respect for One another – with consideration for the protected characteristics and also acknowledging additional factors (for example members of staff with English as a second language, early career researchers etc.).
Courage – to speak out and challenge inappropriate behaviours.
Empowerment – where all colleagues feel confident and valued to speak up and offer an opinion.
Integrity – ensuring that our actions reflect our commitment to the EDI principles.
Standards
The principles that set context for our values
Lawful – The School commits to operating within the bounds of the Equality Act 2010.
Appropriate Behaviour – exemplary conduct by staff and students both in and out of work.
Total Professionalism – a commitment to working towards an inclusive environment and a selfless commitment to colleagues and students.