IST Image Competition Winner
Congratulations to Research Technician, Morgan Shaw on winning the 2022 IST image competition.
The Institute of Science and Technology (IST) 2022 image competition has been won by Morgan Shaw a research technician working in the Regenerative Medicine, Stem Cells, Transplantation research theme. She received her prize at the recent IST conference in York attended by more than 300 delegates. The competition is designed to showcase the important work carried out by those in technical positions. This year, applicants were asked to submit images that reflected the conference's theme: 'Teams behind the scenes'.
Winning Image
Morgan's winning image (right) certainly fulfilled this brief as it shows her colleague, , using a microtome to cut fine sections from a human pancreas sample from the MRC QUOD Biobank. After Nicola has prepared the samples they will be imaged and analysed by a Transmission Electron Microscope.
The QUOD biobank facilitates research into organ donation and transplantation by providing researchers with samples and clinical data from appropriately consented / authorised organ donors. Newcastle University is the hub for the QUOD whole organ human pancreas tissue bank.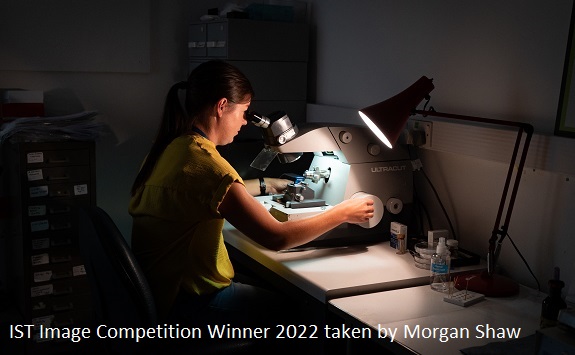 Morgan's own work is in human organ translational research including islet isolations, heart, pancreas and lung dissection and biopsy collection for the MRC QUOD Biobank, as well as heart and lung perfusion projects. Her focus is the pancreas and she works on several projects involving engineering isolated islets that requires skills in; cell culture, microscopy, glucose stimulated insulin secretion and ELISA. This innovative work requires a level of creativity and an ability to problem solve with an eye to detail, attributes which are also very beneficial in photography. Commenting on her success Morgan said:
"I am lucky as I have a passion for photography and my research often leads to some striking images. It is even more fulfilling when these can be used to promote the technical workforce that drives research and give them the platform they deserve".
About the IST
The IST is the professional body for specialist, technical and managerial staff. It provides focused support for technical practitioners, specialists and managers in the creative, digital, engineering and science technologies, working across a broad range of sectors including industry, local authorities, schools, FE, HE, research/analytical/health facilities, government departments and organisations in the UK and overseas.
It is licenced by the Science Council to award to their science/technical registers at Chartered Scientist (CSci), Registered Scientist (RSci) and Registered Science Technician (RSciTech) levels, and also provides professional registration as a Registered Practitioner for technical personnel for whom the Science Council registers are not appropriate, at MIScT(Reg) or FIScT(Reg) level.