Research Vessel, The Princess Royal
Our state-of-the-art research vessel, The Princess Royal, was designed in-house by staff and students.
Ideal platform for research
The catamaran has established itself as the ideal platform for small research vessels due to its stability, large deck area and manoeuvrability.
Our unique marriage of the catamaran and the deep-vee hull form with anti-slamming bulbous bows gives enhanced seakeeping, efficiency and speed potential whilst maintaining its other inherent virtues.
With an operational area encompassing the North-East coast of England, it is no coincidence that the boat features tunnel sterns and the deep fore-foot of the Northumbrian Coble.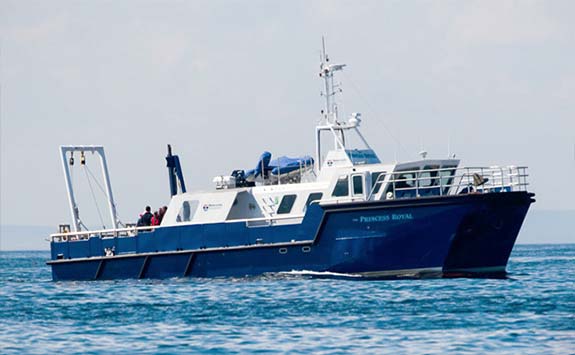 Available for hire
The boat was even built locally, with the winning tender awarded to Alnmaritec, a boat builder based in Blyth. The vessel is also available for hire for commercial and private charter.
We support and maintain The Princess Royal, with our Blyth Marine Station.
Track the Princess Royal
You can track the Princess Royal as she sails around the North Sea by visiting www.marinetraffic.com and inserting the name 'Princess Royal, UK'.
Facilities
The Princess Royal carries:
enough fuel to cover 5000 miles at eight knots
sufficient food and water to remain at sea for three days
three drum trawl winches, each weighing 2 tonnes each and able to carry 200 metres of 12mm diameter wire
a deck crane, providing lifting facilities over the working deck
Accommodation
The vessel is certified by the Marine and Coastguard Agency for up to four crew and twelve scientists on a day basis. Life Saving Appliances are carried for sixteen people.
The wheelhouse is spacious and allows up to ten people to have bench space.
Equipped with bench top PCs, a fridge/freezer and data and power for external equipment.
Below decks there are two cabins with bunks for four people, a galley/mess room, small shower and bathroom.
Teaching
The Princess Royal is an integral facility for our undergraduate and postgraduate teaching.
You will have access to our vessel throughout your time at Newcastle. You'll take part in a series of structured practical sessions and independent dissertation project work.
On average our students spend five days working on the vessel during their degree. They experience a range of activities, from oceanographic characterisation of river plumes to remote camera surveys of offshore habitats.
Teaching on board
The Princess Royal has specially designed observation windows to observe propeller cavitation in real-time within a natural environment. This you to compare calculations from the drawing board with a 'real-world' example.
The vessel has been designed as a floating laboratory for both marine scientists and engineers. You can investigate every aspect of the marine environment and assess and handle the performance of a small craft.
You'll also become familiar using:
static and towed fishing gears
remotely operated vehicles
autonomous camera systems
oceanographic survey and sampling (CTDs, fluorometers and side-scan sonar)
Marine engineering students and naval architects also use the vessel as a functional example for much of their taught theory. This includes small craft design, hydrodynamics, engine performance, marine noise and propeller cavitation.
Specifications
| | |
| --- | --- |
| Length Overall | 18.9m |
| Beam Overall | 7.3m |
| Design Draft | 1.64m |
| Displacement (light) | 36 tonnes |
| Payload | 5 tonnes |
| Max Speed | 20 knots |
| Cruising Speed | 15 knots |
| Engines 2 | x 600hp |
| Propulsion | Fixed pitch propellers |
Normal area of operation
The coastal waters, rivers and estuaries of North East England.
Operating conditions
Classification MCA category 2
Sea state 4-5
Range 400 nautical miles
Hire
The Princess Royal is available for commercial charter.
The flexible nature of the vessel platform makes her ideally suited for wind-farm support, marine mammal and bird survey, servicing of moored oceanographic equipment and more traditional EIA support work such as benthic trawling, sediment sampling and habitat mapping.
She is also fully equipped to support a broad range of maritime research in both the marine science and engineering fields.
We welcome enquiries and collaboration with researchers from UK and EU institutes.
Using our vessel
The Princess Royal is ideally placed to provide support for coastal research around the UK coastline and the wider North Sea.
We have a strong track record of supporting the UK marine consultancy and energy industries and have worked in both our local coastal waters and further afield around the British Isles.
We are fully certified for workboat activities by the MCA and have undergone a full audit by representatives of the UK offshore renewable sector.
All documents related to the vessel and her crew are available on request as are references from past and current clients.
Bookings
If you are interested in chartering the Princess Royal in support of your work we are happy to discuss your requirements.
Please contact Dr Ben Wigham, using the below details.
We can provide quotations and assistance with logistical planning for both grant and contract applications.
Contact us
All enquiries are welcomed and should be made to:
Dr Ben Wigham
Research Vessel Manager
Dove Marine Laboratory
School of Natural and Environmental Sciences
Newcastle University
Cullercoats
North Shields
NE30 4PZ
Telephone: +44 (0)191 208 3054 or +44 (0)191 208 7831
Fax: +44 (0)191 252 1054
Email: ben.wigham@ncl.ac.uk
Mr Neil Armstrong
Master of Research Vessel Princess Royal
Newcastle University
School of Natural and Environmental Sciences
Blyth Marine Station
Quay Road
Blyth
NE24 3PA

Telephone: +44 (0)1670353793
Email: neil.armstrong@ncl.ac.uk