Dr Matt Hopkinson
Senior Lecturer in Organic Chemistry
Telephone: +44 (0) 191 2080013
Personal Website: https://blogs.ncl.ac.uk/matthewhopkinson/
Address: Room 2.66
Bedson Building
School of Natural and Environmental Sciences
Newcastle University
Newcastle upon Tyne, NE1 7RU
United Kingdom
Background
I studied chemistry at the University of Oxford (Pembroke College), graduating in 2007. Having completed a Masters project under the supervision of Prof. Véronique Gouverneur, I stayed in the group for a DPhil, graduating in 2011. During this time, I worked on the development of new reaction methods for organic synthesis, focusing on gold-catalysed coupling reactions and radiofluorination chemistry for Positron Emission Tomography (PET) imaging. This project was funded through a CASE award from GlaxoSmithKline and I spent time at their Clinical Imaging Centre (CIC) radiochemistry facility at Hammersmith Hospital in London. In 2012, I moved to Germany for a Postdoc in the group of Prof. Frank Glorius at the Westfälische Wilhelms-Universität Münster. My research there was funded by a scholarship from the Alexander von Humboldt foundation and focused on transition metal- and photocatalysis. In 2016, I started my independent career as a Junior Professor at the Freie Universität Berlin, setting up a research programme centred on the fields of organofluorine chemistry, organocatalysis and photochemistry. It is these areas that my group is continuing to explore since moving to Newcastle in November 2021.
Research
For more information and the latest news from our group, please visit the Hopkinson Group Website.
Research in the Hopkinson Group spans several areas of organic synthesis with an overall focus on developing new practical reaction methodologies. Particular areas of interest include organofluorine chemistry, photochemistry and organocatalysis.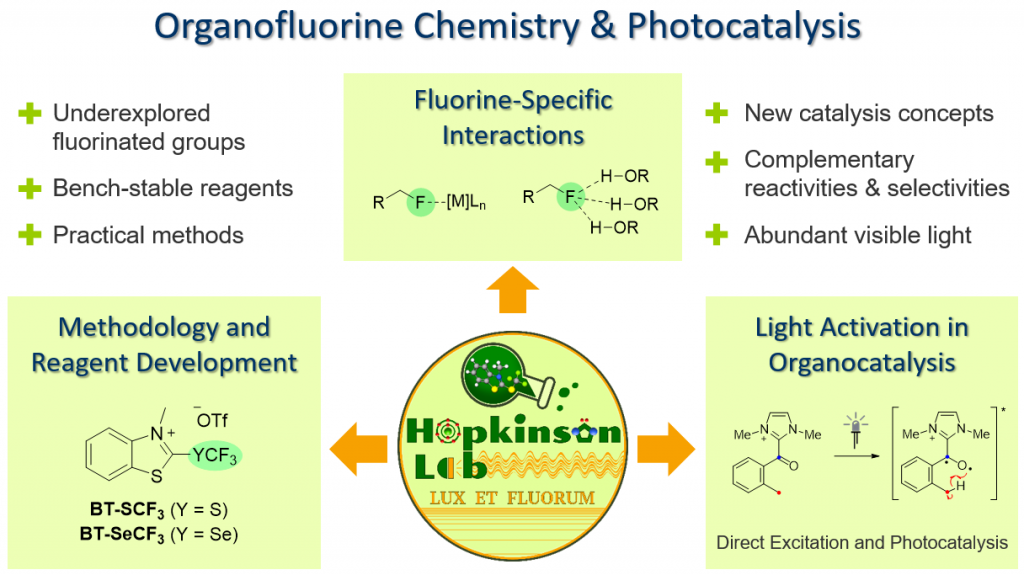 ---
Organofluorine Chemistry
The incorporation of fluorine or fluorine-containing groups into organic molecules can have a dramatic impact on their chemical and biological properties. In particular, fluorinated pharmaceuticals often exhibit improved potency compared to their non-fluorinated analogues and are more metabolically stable. The comparative lack of fluorine-containing natural products means that access to these compounds relies heavily on synthetic organic chemistry and new methods that offer improved efficiency and selectivity or even allow for the preparation of unprecedented classes of organofluorine compound are highly desired.
Our research is centred on the design and application of new methodologies for the synthesis of fluorine-containing organic molecules relevant as pharmaceuticals and agrochemicals. One project line concerns the synthesis, development and application of new widely applicable reagents for installing medicinally relevant fluorinated groups such as the CF3, OCF3, SCF3 and SF5 moieties. For example, in recent work, we have introduced BT-Reagents as a new class of solid reagents that enable the deoxygenative synthesis of (fluoroalkyl)thio- and seleno-substituted compounds directly from widely available alcohols and carboxylic acids.
In other projects we exploit visible light as a tool for enabling the installation and manipulation of fluorine and fluorine-containing functional groups. For example, we have developed a new radical method for preparing valuable trifluoromethoxylated compounds using bis(trifluoromethyl)peroxide (BTMP) as a practical OCF3 radical source. Initiated by our involvement in the DFG-supported Collaborative Research Centre (SFB 1349) "Fluorine-Specific Interactions", we also investigate selective C−F activation reactions which exploit the unique interactions between fluorine atoms and Lewis acids or hydrogen bond donors. These processes enable the synthesis of valuable partially fluorinated compounds from widely available perfluorinated feedstocks.
---
Light Activation in Organocatalysis
Alongside our work on organofluorine chemistry, we also develop new reaction methodologies involving photoactivation. As most compounds do not themselves absorb light in the visible part of the spectrum, we take advantage of photocatalysis strategies wherein photocatalysts such as organic dyes or transition metal polypyridyl complexes like [Ru(bpy)3]2 (bpy = 2,2ʹ-bipyridine) transfer energy either directly or via electron transfer to the substrates of interest. These processes, not only allow abundant and sustainable visible light to be used as an energy source in organic synthesis, but can also lead to unprecedented and exotic reactivity by giving access to reactive radical or ionic intermediates under remarkably mild conditions (typically room temperature using household desk lamps or LEDs).
In one project line, we are focused on the development of new methodologies where light activation is combined with N-heterocyclic carbene (NHC) organocatalysis. Using such approaches, reactivities and selectivities that are complementary to existing NHC-catalysed processes can be obtained while the wide availability of chiral organocatalysts opens up opportunities for conducting otherwise challenging enantioselective photochemical reactions. In recent work, we have introduced Photo-NHC catalysis as a strategy for expanding the scope of carbonyl photochemical reactions to substrates at the carboxylic acid oxidation level. In this process, the NHC organocatalyst can be considered a "transient aryl group" that temporarily changes the absorption characteristics and excited state properties of the carbonyl function during the catalytic cycle.
Publications
Articles

Garg A, Gerwien NJ, Fasting C, Charlton A, Hopkinson MN. Formal Insertion of Alkenes Into C(sp3)−F Bonds Mediated by Fluorine-Hydrogen Bonding. Angewandte Chemie International Edition 2023, 62(25), e202302860.
Haswell, A, Tironi, M, Wang, H, Hopkinson, MN. Deoxygenative Perfluoroalkylthiolation of Carboxylic Acids with Benzothiazolium Reagents. Journal of Fluorine Chemistry 2023. In Press.
Mavroskoufis A, Lohani M, Weber M, Hopkinson MN, Götze JP. A (TD-)DFT Study on Photo-NHC-Catalysis: Photoenolization/Diels-Alder Reaction of Acid Fluorides Catalyzed by N-Heterocyclic Carbenes. Chemical Science 2023, 14, 4027-4037.
Dix S, Golz P, Schmid JR, Riedel S, Hopkinson MN. Radical C-H Trifluoromethoxylation of (Hetero)arenes with Bis(trifluoromethyl)peroxide. Chemistry - A European Journal 2021, 27(45), 11554-11558.
Mavroskoufis A, Rieck A, Hopkinson MN. Norrish Type II Reactions of Acyl Azolium Salts. Tetrahedron 2021, 100, 132497.
Tironi M, Dix S, Hopkinson MN. Deoxygenative Nucleophilic Difluoromethylselenylation of Carboxylic Acids and Alcohols with BT-SeCF2H. Organic Chemistry Frontiers 2021, 8(21), 6026-6031.
Ariamajd A, Gerwien NJ, Schwabe B, Dix S, Hopkinson MN. Benzothiazolium Salts as Reagents for the Deoxygenative Perfluoroalkylthiolation of Alcohols. Beilstein Journal of Organic Chemistry 2021, 17, 83-88.
Maas LM, Schmid JR, Fasting C, Vossnacker P, Mavroskoufis A, Hopkinson MN. Activation of Tetrahydrofuran with 2-((Fluoroalkyl)thio)Benzothiazolium Reagents. Tetrahedron 2021, 101, 132512.
Mavroskoufis A, Rajes K, Golz P, Agrawal A, Russ V, Götze JP, Hopkinson MN. N-Heterocyclic Carbene Catalyzed Photoenolization/Diels-Alder Reaction of Acid Fluorides. Angewandte Chemie International Edition 2020, 59(8), 3190-3194.
Tironi M, Maas LM, Garg A, Dix S, Götze JP, Hopkinson MN. Deoxygenative Tri- and Difluoromethylthiolation of Carboxylic Acids with Benzothiazolium Reagents. Organic Letters 2020, 22(22), 8925-8930.
Dix S, Jakob M, Hopkinson MN. Deoxytrifluoromethylthiolation and Selenylation of Alcohols by using Benzothiazolium Reagents. Chemistry - A European Journal 2019, 25(32), 7635-7639.
Teders M, Gómez-Suárez A, Pitzer L, Hopkinson MN, Glorius F. Diverse Visible-Light-Promoted Functionalizations of Benzotriazoles Inspired by Mechanism-Based Luminescence Screening. Angewandte Chemie International Edition 2017, 56(3), 902-906.
Honeker R, Garza-Sanchez RA, Hopkinson MN, Glorius F. Visible-Light-Promoted Trifluoromethylthiolation of Styrenes by Dual Photoredox/Halide Catalysis. Chemistry - A European Journal 2016, 22(13), 4395-4399.
Tlahuext-Aca A, Hopkinson MN, Daniliuc CG, Glorius F. Oxidative Addition to Gold(I) by Photoredox Catalysis: Straightforward Access to Diverse (C,N)-Cyclometalated Gold(III) Complexes. Chemistry - A European Journal 2016, 22(33), 11587-11592.
Tlahuext-Aca A, Hopkinson MN, Sahoo B, Glorius F. Dual gold/photoredox-catalyzed C(sp)-H arylation of terminal alkynes with diazonium salts. Chemical Science 2016, 7(1), 89-93.
Tlahuext-Aca A, Hopkinson MN, Aleyda Garza-Sanchez R, Glorius F. Alkyne Difunctionalization by Dual Gold/Photoredox Catalysis. Chemistry - A European Journal 2016, 22(17), 5909-5913.
Hopkinson MN, Gómez-Suárez A, Teders M, Sahoo B, Glorius F. Accelerated Discovery in Photocatalysis using a Mechanism-based Screening Method. Angewandte Chemie International Edition 2016, 55(13), 4361-4366.
Sahoo B, Hopkinson MN, Glorius F. External-Photocatalyst-Free Visible-Light-Mediated Synthesis of Indolizines. Angewandte Chemie - International Edition 2015, 54(51), 15545-15549.
Boultadakis-Arapinis M, Hopkinson MN, Glorius F. Using Rh(III)-catalyzed C-H activation as a tool for the selective functionalization of ketone-containing molecules. Organic Letters 2014, 16(6), 1630-1633.
Hopkinson MN, Sahoo B, Glorius F. Dual Photoredox and Gold Catalysis: Intermolecular Multicomponent Oxyarylation of Alkenes. Advanced Synthesis and Catalysis 2014, 356(13), 2794-2800.
Sahoo B, Hopkinson MN, Glorius F. Combining gold and photoredox catalysis: Visible light-mediated oxy-and aminoarylation of alkenes. Journal of the American Chemical Society 2013, 135(15), 5505-5508.
Kuhl N, Hopkinson MN, Glorius F. Selective rhodium(III)-catalyzed cross-dehydrogenative coupling of furan and thiophene derivatives. Angewandte Chemie - International Edition 2012, 51(33), 8230-8234.
Gao Z, Lim YH, Tredwell M, Li L, Verhoog S, Hopkinson M, Kaluza W, Collier TL, Passchier J, Huiban M, Gouverneur V. Metal-free oxidative fluorination of phenols with [18F]fluoride. Angewandte Chemie - International Edition 2012, 51(27), 6733-6737.
Hollingworth C, Hazari A, Hopkinson MN, Tredwell M, Benedetto E, Huiban M, Gee AD, Brown JM, Gouverneur V. Palladium-catalyzed allylic fluorination. Angewandte Chemie - International Edition 2011, 50(11), 2613-2617.
Li L, Hopkinson MN, Yona RL, Bejot R, Gee AD, Gouverneur V. Convergent 18F radiosynthesis: A new dimension for radiolabelling. Chemical Science 2011, 2(1), 123-131.
Hopkinson MN, Gee AD, Gouverneur V. AuI/AuIII Catalysis: An Alternative Approach for C_C Oxidative Coupling. Chemistry - A European Journal 2011, 17(30), 8248-8262.
Hopkinson MN, Tessier A, Salisbury A, Giuffredi GT, Combettes LE, Gee AD, Gouverneur V. Gold-catalyzed intramolecular oxidative cross-coupling of nonactivated arenes. Chemistry - A European Journal 2010, 16(16), 4739-4743.
Hopkinson MN, Giuffredi GT, Gee AD, Gouverneur V. Gold-catalyzed diastereoselective synthesis of α-fluoroenones from propargyl acetates. Synlett 2010, (18), 2737-2742.
Hopkinson MN, Ross JE, Giuffredi GT, Gee AD, Gouverneur V. Gold-catalyzed cascade cyclization-oxidative alkynylation of allenoates. Organic Letters 2010, 12(21), 4904-4907.
Lam Y-H, Hopkinson MN, Stanway SJ, Gouverneur V. Diastereoselective fluorination of silylated 1,2-oxazines to access fluorinated N,O-heterocycles. Synlett 2007, (19), 3022-3026.

Book Chapters

Hopkinson MN. Synthesis of Trifluoromethylthiolated Alkenes and Alkynes. In: Cahard, D; Ma, JA, ed. Emerging Fluorinated Motifs: Synthesis, Properties and Applications. Wiley, 2020, pp.373-402.
Hopkinson MN, Glorius F. An Overview of NHCs. In: Biju, AT, ed. N-Heterocyclic Carbenes in Organocatalysis. Wiley, 2019, pp.1-36.
Dix S, Hopkinson MN. Gold in Photocatalysis. In: König, B, ed. Science of Synthesis: Photocatalysis in Organic Synthesis. Thieme, 2018.
Hopkinson MN, Gouverneur V. Gold-Catalyzed Coupling Reactions. In: Organometallic Complexes of Gold (Update 3, 2011). Georg Thieme Verlag, 2011, pp.101.

Reviews