Ruth
BSc Animal Science with Placement Year.
Why did you choose to do an Animal Science degree?
I was really interested in biology and had also always loved animals (cliché, I know). I was investigating veterinary, biology and zoology when I came across the Animal science degree. It just seemed like a great fit for what I'm interested in, particularly the incorporation of industry and welfare.
What made you choose to study the Animal Science degree at Newcastle University?
The campus and city. I had three other top choices which I visited. Newcastle campus just felt homely compared to a lot of the other universities.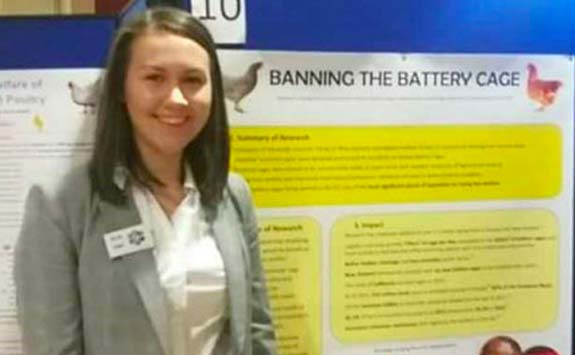 What do you plan to do after university?
I hope to go into the animal nutrition industry, with a focus on poultry, at some stage or another.
Where did you do your placement? What were your responsibilities?
My placement was with Oaklands Farm Eggs Ltd, who are the biggest independent egg producer in Europe. My responsibilities included day-to-day management of a poultry unit. I was in charge of a 300,000-bird rearing unit and, following that, a 160,000-laying unit. I also did some behaviour trials and data analysis for the farm.
Why did you choose to do a placement?
I came to university wanting to study companion animals. I then really enjoyed the livestock aspect a lot more. I felt I needed more industry experience, as I didn't come from a farming background.
How did you decide where to do your placement?
I applied to several different places. I wasn't really sure what I wanted, but I knew if I could work for a well-known company in any sector within agriculture, it would be a good stepping stone.
How did Newcastle University support you when you applied for and undertook your placement?
I did the "career module" throughout the placement, so I had regular phone calls from the module leaders.
Did the placement opportunities affect your decision on where to study? If so, why did you choose Newcastle University?
It didn't affect my choice of study. It wasn't really available at any of the universities that I looked at as an 'official' option (other than taking a gap year and getting no credit). But if I was making recommendations to other people who were going to university, I would say to find a course that allows credited placement years.
Has doing a placement furthered your interest in your Animal Science degree? Do you hope to work in Animal Science after graduation?
Yes, definitely. I would never have been as interested in poultry as I am now without having done my placement.
Before my placement, I was giving serious consideration to going into teaching after I graduate. But my placement exposed me to all the different unseen roles within the industry. This reassured me a lot about all the options I could go into after I graduate.
I am also learning a lot more about these aspects in Stage 3, such as in Nutrition, Animal Welfare and Livestock Behaviour. It brings you back to Stage 3 with a new enthusiasm, different perspectives, and lots of extra knowledge to share in seminars and lectures.
Would you consider working in your placement area or company after university?
Yes, 100%.
What advice would you give to someone considering doing an Animal Science degree at Newcastle University with a placement year?
My advice is just to do it! It won't be what you expect and will be more challenging than you thought, but that makes it all the more worthwhile when you look back. It's also helped me tailor my final year to what I'd like to do after university. I'm better placed to choose dissertation topics and research to read which are applicable to the sector I want to go in to. Plus a year of earning money really helps pay the bills through final year!