Amy-Louise
Marine Zoology BSc Honours.
Choosing Newcastle
I lived in Dubai originally and knew that I didn't want to return to England and go to university anywhere near where I used to live. I wanted to experience another side of England I had never been to. Upon visiting Newcastle University, it was quite literally the only university that stood out to me.
About your course
I like the practical side of certain modules, especially the marine vertebrates lab sessions in stage two. Dissecting a harbour porpoise and seal was the most interesting lab yet.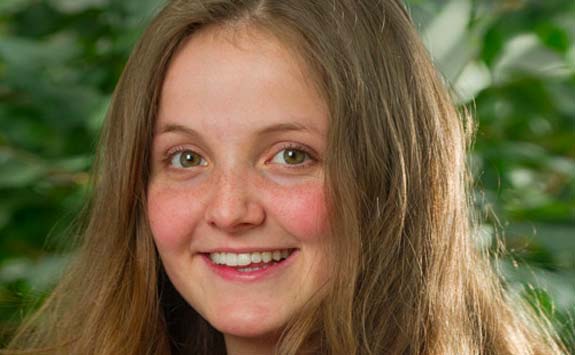 Recommending Newcastle
It is an academically fantastic university. I have had plenty of support from my tutor and feel able to talk to the majority of the lecturers with any problems I am having on the course. As well as this, the general university student life is just incredible. Among the crazy nightlife are amazing restaurants, sites and markets on the weekends on the Quayside; there is always something to do. The weather isn't as bad as people think either!
Living in Newcastle
I would describe Newcastle as fun, high energy, at times cold but sunny, bustling, and really diverse in terms of courses and student population.
I live in Jesmond and yes it was easy to find houses available but it was definitely not so easy to find somewhere that everybody liked (… there are seven of us!). But Jesmond is the perfect location for us as we are walking distance from the University, the library, the local shops, the bars on Osborne Road and the metro.
We are also a five minute walk from the local gym, which is great as it adds motivation to exercise; I wouldn't have the time to walk to the University gym and back.
Clubs and societies
I think there are a huge variety of clubs to join; there is no doubt something for everyone. I was a member of the basketball team and art society in my first year and part of my second (unfortunately, work limitations and where I'm living don't really allow me to train as much as I would like). Activities involved in regards to basketball include regular weekly training sessions, weekly nights out/social events, and just establishing a great friendship group.
Chances are you will meet someone in the year above doing your course (like I did!), which is really useful if you need any advice or have any questions about current or future years.
I would strongly recommend joining a society in your first year. You meet so many different people and make so many new friends which will last throughout your entire university experience.
Student finance
First year will not be an accurate reflection of your spending habits in second year. Second year (for the majority of courses) is a lot harder and more time-consuming so, unfortunately, this means not as much going out which is where (you will be surprised to hear) the majority of your money goes!
But to put it simply, just be careful with money.
Future plans
No fixed future plans at the moment, just to take life as it comes both in and beyond university. I do plan to live abroad at some point.