Choosing Newcastle
I liked the idea of being a long way from home and to explore a city I've never been to before. The University is within the Russell Group so receives extra funding for scientific research, which was appealing for me since I knew I wanted to study a science degree and this assured me that the teaching would be of excellent quality.
Upon researching I found that the city itself seemed a friendly and dynamic environment with a lot to offer, making it ideal for living in for three years.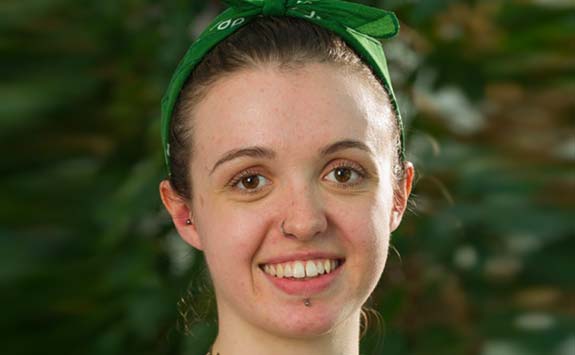 About your course
I love the variety of content covered within lectures and the amazing opportunities for hands-on studying; we spend a lot of time outside gaining a practical understanding of the marine environment first hand and also working in laboratories to increase our level of proficiency as scientists.
There is a lot of additional support to help us reach our full potential in our degree, plus the lecturers deliver lectures in a way that's informative yet inspiring. This year we will be going on an eight-day trip to Bermuda, which I am really excited to do since I'm very intrigued to see how different a tropical marine environment will be to the Northumberland coast.
Recommending Newcastle
Newcastle University was my first choice and I have had absolutely no regrets in coming here.
Living in Newcastle
A very vibrant city that constantly has lots going on; there will always be something for anybody to enjoy, whether it's the art galleries and museums or the energetic night-time scene and everything in between.
This year I'm living in Jesmond, a small suburb in Newcastle which is about fifteen minutes' walk from campus. It was very easy; estate agents know that thousands of students every year need accommodation and are very helpful. However you need to get in quick; most of the houses are signed for by Christmas!
Clubs and societies
I joined Ultimate Frisbee in my first year which was a great way to meet different people that weren't in my course or in my halls. The club was suitable for all abilities (since not many people have played the sport prior to University) and involved things like tournaments on the beach (that included barbecues) and chances to play in the Nationals in other cities such as Leeds and Nottingham.
Student finance
Don't spend it all at once! Student loans need to last longer than you think when they first arrive in your bank account!
Future plans
After my degree I would like to spend a year or so working abroad, hopefully within marine biology, then do a Master's course. I would like to work in conservation or perhaps in marine research.