Hannah
Marine Zoology BSc Honours.
Choosing Newcastle
As soon as I visited Newcastle being here just felt right. Although a reasonable distance from home, the good transport links make it not feel so far. And it is also such a lovely city to live in, not too large a city either so it's easy to find your way around, relatively cheap and lots to do.
Looking at my course it also had modules covering lots of the things I was interested in learning about. The course also seemed more varied than the courses that others offered and provided opportunities that other universities didn't.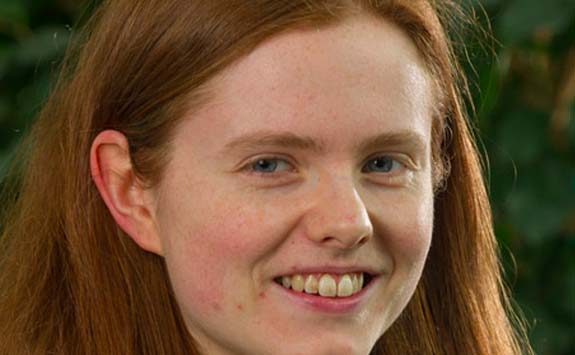 About your course
The fact that it isn't really a conventional subject: people are often very fascinated when you tell them you study a marine science. It covers a wide range of topics which are very interesting as well as many which are current in the marine environment.
Practical lab work and fieldwork are great fun– and getting the opportunity to do your own dissections. The residential fieldtrip at the end of first year is a great way to improve your knowledge as well as make new friends and have fun with everyone who you have met during the year.
Recommending Newcastle
Really great city to live in. There is always something to do no matter your interests. Newcastle also has great transport links so is easy to get home. It is also a cheap city to live in with rent being pretty cheap as well as general activities costing far less than they do at home.
The lecturers on my course are all really friendly and are very helpful. And the course is great fun and very varied giving you a wide range of topics to look at rather than just focussing on one particular aspect of the marine environment.
Living in Newcastle
Newcastle is a lovely, vibrant city. Great transport links allowing you to visit places such as the Metrocentre, Angel of the North and the coast. Really good culture, lots to do and visit. Everyone is so friendly. I live on the Quayside in a relatively new flat with friends. It was very easy to find somewhere to live no matter what time of year you start looking – there are plenty of houses out there for students to rent for a range of prices.
Clubs and societies
There is a brilliant variety of clubs and societies for you to join and all the people on the clubs make you feel welcome. No matter your interests there is more than likely a club that you will want to join.
Student finance
Before signing for a house or even starting to look around don't get too carried away with what looks nice. Yes a nice house is great but you need to work out how much you can actually afford for rent (not forgetting bills).
Before you start the year work out how much you can realistically afford to spend a week. I generally say I have £10 less than I can actually afford a week so that I can save up and afford to do more special things and buy treats once in a while.
Future plans
Would like to go on and do a Master's (maybe staying in Newcastle or moving to another university). After that I would like to go on to have a career in research and conservation.