Why did you choose to study at Newcastle University?
Newcastle is a vibrant student city and I really like that the University is a campus in the city centre. I chose Newcastle because of its great academic reputation, and I really like the welcoming and friendly atmosphere on campus. Newcastle stood out to me because it is a Russell Group university which carries out leading research, and also offers lots of opportunities for students, through the wide range of courses available, the support from the Careers Service and the social aspect, through the societies and the Students' Union.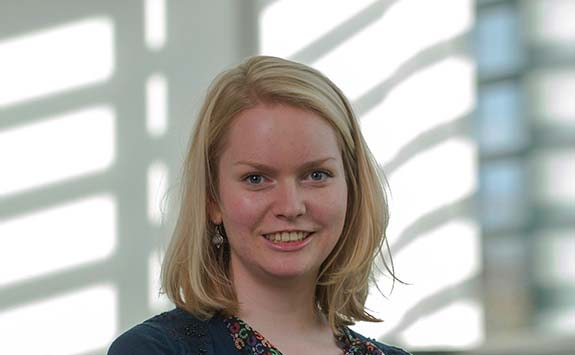 What do you most enjoy about studying your course? What has been your favourite module?
We have the option to study a wide range of modules, and get the opportunity to go on lots of field trips and do frequent lab sessions. I enjoy learning about the areas of biology the lecturers specialise in, and they are always enthusiastic about sharing their research. My favourite module has been Microbiology, because I really enjoyed all the practical work involved and the module forms the basis for several Stage 2 modules and I enjoy linking all the work we have done together.
What do you think of the teaching quality on your course?
The teaching on my course has been excellent, and I like that the staff deliver a range of teaching formats, such as lectures, tutorials, seminars and lab sessions. The staff are really supportive and helpful, and passionate about their subject. The feedback we receive is always detailed, and the online resources available are really useful for supporting lecture material and doing revision.
If you had to recommend your course to a student trying to choose a university what would you say to them?
My course offers the freedom to specialise in certain areas of biology, but the first year is shared with all the biological science courses, so if you change your mind or really enjoyed a particular Stage 1 module, there is the option to change between the courses at the end of the first year. This really drew me to Newcastle, because we covered a lot of new content in the first year and it was a big step up from A levels, and it was good to know that if my interests changed, I would be able to change onto a related course. I have really enjoyed the practical side of my course so far, and most modules involve either lab sessions or fieldwork. It is really useful to see the practical applications of the content covered in lectures, and how it relates to real world situations.
What do you enjoy most about life in Newcastle? If you had to recommend it to a friend what would you say?
Newcastle is a great city for students, and I was really surprised about how much culture is on offer here, from live music to comedy, art and theatre. My favourite places to visit are The Baltic and The Biscuit Factory, which are art galleries and The Stand for their stand-up comedy night on Wednesdays. There are also loads of great productions on at Northern Stage, and they do discounted student prices. There are lots of places to go out to eat and drink in Newcastle, and the Quayside is always a good place to go when the weather is nice!
What do you think about the clubs and societies that you can join? If you have been a member of one, what sort of activities has it involved?
There are lots of options available for societies to join, from course specific societies to music, sport and cultural ones. I was a member of the orchestra last year, and it was great to get the chance to develop a skill and also meet lots of new people. My course society is called BioSoc, and the committee organises a wide range of activities, including regular nights out, paintballing, quiz nights, a summer ball and an annual weekend abroad. They are also involved in lots of charity work.
Where do you live? Was it easy to sort out accommodation?
I now live at home, but spent last year in a student flat in Sandyford. It was really easy to find, and the estate agents are geared towards working with students, and were very helpful in getting us the flat and helping us with the maintenance while we were living there. I loved the location, because it was only a 15-minute walk to the University and I was close to Heaton Park and lots of good cafés and restaurants.
Do you have any tips on budgeting, student finance or funding your studies?
I have had a part-time job while being at University on a zero hours contract, so it has been flexible around my studying, and I can work a lot during the summer months and limit my work during revision periods. I would recommend trying to find part time work during first year, because you tend to have a lot of spare time compared to the other years. The summer vacations are very long compared to school, so it is also a good idea to try and find some work then and even better if it is related to your course or can count towards work experience.
What are your career aspirations after you graduate? Explain how studying at Newcastle is helping you to achieve your career goals.
After I graduate, I would like to do some postgraduate studying, hopefully somewhere abroad, and specialising in medical genetics. My course has close links to the Careers Service, and we often have sessions delivered to us on topics including improving our CV and how to find vacation work and placements. There is also a vocational placement module, where we can spend time working in a biology related environment. I have been involved in the ncl+ programme, which helps develop skills that make students more employable after graduating.