Why did you choose Newcastle?
I chose to come to Newcastle as it has a great reputation for science. After graduation, I wanted to go into research so Newcastle seemed like an obvious choice because of its reputation for research. I also only live 30mins outside of Newcastle so it was handy!
What do you like most about your course?
The lecturers, they're really nice. Science can sometimes seem boring and very complex but with passionate staff, the course is really interesting!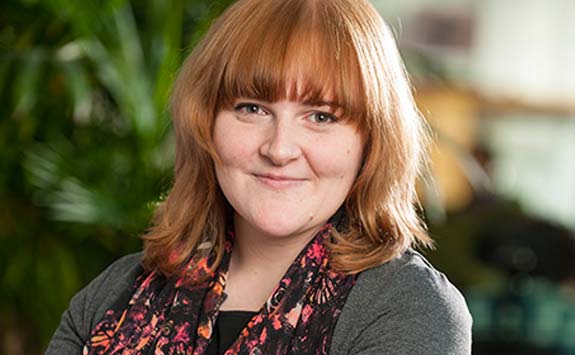 If you had to recommend Newcastle or your course to a student trying to choose a university what would you say to them?
Newcastle is a great city to be based in, with hundreds of shops, nightclubs, bars and entertainment venues ,so there's something for everyone to do when lectures have finished! Rail links are also really good so Newcastle is good if you want to travel around and visit other parts of the country. Everyone is so friendly too; you'll be sure of a good old Northern welcome and feel like a local in no time!
How would you describe Newcastle?
Vibrant, friendly and exciting
What do you think about the clubs and societies that you can join? If you have been a member of one, what sort of activities has it involved?
There are so many clubs and societies to join, there's always something going on! I joined BioSoc which organises socials and trips with a Biology theme. For example, in first year they organised a Mad Scientist themed bar crawl so everyone went out dressed up in lab coats with Albert Einstein style hair!
Where do you live? Was it easy to find somewhere?
I live locally so I live at home. None of my friends who don't live locally have had any issues with finding a place to live though.
What are your future plans?
I want to go on to do postgraduate study for a Masters and/or a PhD in the field of neuroscience and behaviour.
Do you have any tips about budgeting or student finance?
I set up an ISA and transferred some of my student loan to it each term to cover bills such as car insurance. That way, I wouldn't accidentally spend the money and when it came time to renew my insurance, the money was already there. There are also plenty of opportunities in Newcastle to get a part time job so you could top up your student loan that way.